Anthropology Class Develops App for the National Park Service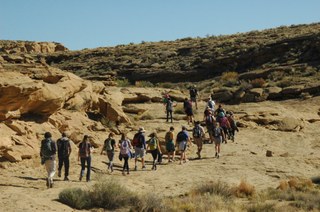 Eldorado High School history and anthropology teacher Rick Sleeter had a project in which to engage his students.  The students would be given the opportunity to conduct actual fieldwork to create a Junior Ranger Program and app for the National Park Service.  In order to do so, the students would need to take two trips to Chaco Canyon.  They would also need funding for other needs such as the services and fees for the app.  Last fall, Mr. Sleeter submitted a grant application for an Achieve Award, citing all the educational benefits the project could provide.  He also wrote, "In this project, students will use 21st century skills to generate authentic products that will be used by actual clients to benefit the community we live in."
His project was one of 21 that were funded through the APS Education Foundation in the last cycle of Achieve Awards.  His anthropology class and club were awarded just over $8,500 for their project titled, "Chaco Canyon Project Based Learning." Achieve Awards provide needed funding for clubs and activities focused on engaging students.  This past fall, the APS Education Foundation granted $63,398 through the Achieve Awards.  The Foundation's Board of Directors makes funding decisions through their Disbursement Committee.  The selection process is not easy, as only a third of the applications were able to receive funding. 
Shana Runck, Assistant VP of Community Relations at Nusenda Credit Union, serves as the Disbursement Committee Chair for the Foundation's Board of Directors.  Ms. Runck said, "Each year, the Disbursement Committee meets multiple times to review hundreds of grant applications from our APS teachers and administrators.  The committee sees firsthand the passion and the creativity of educators and how that passion has the potential to greatly impact student success.  It's not easy to make these grant award decisions, but it's inspiring to see the results of those decisions and to find ways to fund more great ideas with the potential to grow and reach more students.  I look forward to seeing Mr. Sleeter's students complete their project, as I look forward to reviewing the results of all the projects the Foundation has funded and will fund this school year."
Under the guidance of Mr. Sleeter, participating students took a trip out to Chaco Culture National Historic Park in the fall, to conduct research out in the field, and they will return again this spring.  In the meantime, the students are hard at work developing the app that aims to engage younger children while they visit Chaco Canyon.   
This opportunity for students would not have been possible without the support of Foundation donors.