2017 Walmart Blue Sky Grant Awarded to Ernie Pyle Middle School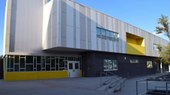 Ernie Pyle Middle School is the recipient of this year's Walmart Blue Sky Grant, awarded by the APS Education Foundation.
Ernie Pyle will receive $15,000 from the Foundation to create an area – the Warrior Student Success Center -- that allows distracted or unproductive students to refocus. It's hoped the center, with help from after-school clubs, will create a safety valve that allows kids to quickly return to the classroom rather than languishing.
Too often, school leaders say, students who can't refocus often fall into behaviors that lead to suspensions, both in-house or off-campus.
The short-term goal, said Ernie Pyle Principal Ryan Homistek, is to increase the school's attendance rate, which currently is at 94 percent. A long-term hope is to greatly reduce or eliminate the need for in- and out-of-school suspensions.
"Ernie Pyle's proposal was innovative, addressed a critical school need and really got the interest of the Foundation board's Disbursement Committee," said Foundation Executive Director Phill Casaus. "The Blue Sky grant is often very competitive, so it will be interesting to see how the school can reach its goals with the help of community funding."