Highland High School
Guided Reading for Beginning Readers in High School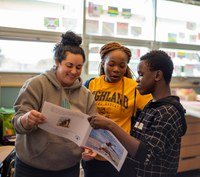 Highland High School is the most diverse high school in Albuquerque Public Schools (APS) and in the state of New Mexico. They also have the largest number of newcomer (refugee and immigrant) students in APS with 26 different languages spoken. Most of our students fluently speak between two and four languages. Many of our students have had minimal and/or disrupted educational experiences. As a result, several of our students have not had the opportunity to engage with academic language. Imagine trying to comprehend high school level content in the English language when you only read at a first grade level? The teachers work hard to meet students where they are academically and move forward from there to be successful while teaching the English language. 
Being a high school, they are unable to purchase any reading materials that are below a 9th grade reading level. According to their reading assessment test, which is administered three times a year, the average reading level of English Language Development (ELD) 1 students is at a beginning Kindergarten level. This reading level is quite a challenge when trying to teach core content like Math, Science, History, and Health to students without English Language Acquisition. 
Highland High School was awarded a Foundation Success Award in the fall of 2017. Teacher Michelle Perez purchased a leveled library, which contains books that serve young children in elementary schools who are learning English.  The library offers fiction, nonfiction and various content areas. 
Ms. Perez and her colleagues work to teach language and content to students to help them to grasp a new language along with high school content simultaneously. This work takes dedication and tenacity by both the staff and students. If they win, this grant will allow teachers to purchase materials such as books, games, models, English/Home Language dictionaries, and activities at various reading levels to help ensure that all of their students can access high school level content across campus.