Garfield STEM Magnet Middle School
Garfield STEM Magnet Middle School - Next Generation Middle School Biology - Third Place Winner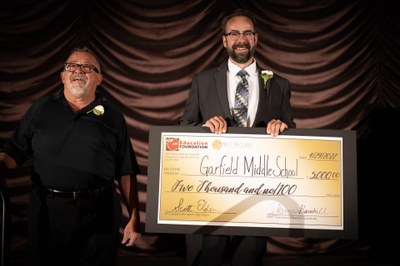 Christopher Speck of Garfield STEM Magnet Middle School has received five Classroom & Grade Level Learning Awards (formerly called Horizon Awards) for "High Altitude Balloon Project" in the spring of 2015, "Coral in the Classroom" in the fall of 2017, "Human Assisted Evolution in the Classroom" in the fall of 2018, "Next Generation Middle School Biology" in the spring of 2019 and "Let It Grow" in the spring of 2021.  
Mr. Speck has shown the value in project-based learning.  His students are equipped with tools and resources not seen in a middle school science classroom including 
pressure sensors, GPS, Raspberry Pis, hydrometers, aquariums, pumps, digital thermometers, coral reefs, BioChambers, CO2 and O2 sensors, aquaponic gardens, and so much more.
Mr. Speck wrote last year, "My main goal as a biology teacher is to give students a solid understanding of the natural world so they can protect it. One of my former bosses at the Advanced Materials Lab once quipped 'Science is a race!'. That mantra drives planning and instruction. I try to overbuild my curriculum so that nothing is left out. If I do anything well, I want it to be consistently done well, and I want to add to it or make it better the following year. That is innovation."