Adobe Acres Elementary School
Celebrando Cultura con Literatura: Celebrating Culture Through Literature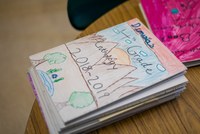 Adobe Acres Elementary School was awarded a Foundation Guhl Award in the spring of 2018.  The program placed an emphasis on language equity between English and Spanish and aimed to develop a lifelong love of literature for all students attending the school.  Program leaders also wanted students to develop a better understanding of themselve through their cultures.  The program implemented a reading buddies program, grade level author and genre studies and a kids as authors publication.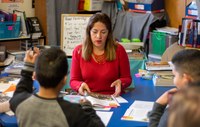 Grantee Cristina Rincon writes, "Celebrando Cultura con Literatura aims to forge a deeper attachment to books and writing and expand our students' experiences with great literature, especially inclusive literature that not only tells a great story but includes students of varying cultures, ability levels, genders and socio-economic backgrounds."
If Adobe Acres Elementary School wins, the school will use the funds to purchase Write Now Right Now (a teacher created writing program that is easy to follow yet comprehensive), as well as, add additional literacy club hours in the 2020/21 school year. The literacy clubs will be held on Tuesdays and Thursdays after school.  Literacy clubs will include building phonics skills, book/literature circles, readers theater, word building through games, English spelling bee support, Spanish spelling bee support and/or other groups that will specifically build skills that their students need support in to improve their fluency and comprehension.