How do I get help?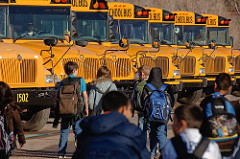 Every Day Matters!
Attendance Myths
Only unexcused absences are a problem
Attendance only matters in older grades
Missing classes or days every so often does not affect learning
There are many reasons for absences and we are here to help.
Illness
Lack of health or dental care
Trauma
No safe path to school
Transportation issues
Homelessness or housing instability 
Academic struggles
Struggling socially
Bullying or conflict with peers or adults
Undiagnosed disability
No meaningful relationships with adults in school
Discouraged due to lack of credits or poor grades
Who can help when my child's absence is a...
classroom issue? Contact the teacher.
social emotional issue? Contact the school counselor.
medical issue? Contact the school nurse or health assistant or other health care provider.
The United Way of Central New Mexico offers a variety of Community Resources for children, youth, and families.