Coordinated School Health Department
The Coordinated School Health Department connects students, schools, families and community partners to opportunities and services that reduce barriers to learning and promote student and school success.
Contact Information
Physical Address:
6400 Uptown Blvd. NE Suite 340 West Albuquerque 87110 Map
Phone: (505) 855-9850
Fax: (505) 830-1771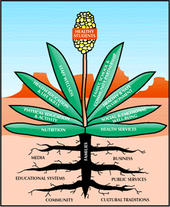 "Making Connections Happen"
Provides assistance and resources to schools, families, and students in an effort to enhance student attendance.
Assists students in achieving excellence in academics/learning and bridging the gap between home, school, programs and the community; and facilitates families' access to before and after school programs.
A Community School builds partnerships between the school and other community resources and acts as a location where those partnerships may be utilized. 

Supports schools in engaging families to be active participants in their children's learning at home and at school, starting with training for school staff and resources for families. 
Provides technical assistance, partnership development and training support of Volunteer Programs.  Serves as liaison with school personnel, local agencies, business partners/organizations partnerships and the community.  Provides oversight of day to day operation of the APS Community Clothing Bank, school supply drives and other special projects.
Physical Address:


6400 Uptown Blvd. NE Suite 340 West Albuquerque 87110

Map
Main Phone:

(505) 855-9850

Fax:

(505) 830-1771
Contact Us
Staff listed by employee, with email address and phone number.
Employee
Contact Information

Daphne Strader




Director



strader_d@aps.edu


(505) 855-5269