2021 APS Legislative Agenda
"A uniform system of free public schools sufficient for the education of, and open to, all the children of school age in the state shall be established and maintained."
–NM Constitution, Article XII, Section 1  
Albuquerque Public Schools 2021 Legislative Priorities
Budget. 
The Issues of budget this year demand both immediate COVID solutions and long-term analysis to stabilize education funding. Districts must have sufficient funding for FY 22 and FY 23 to serve students not just enrolled on the 40th day, but students in our communities that need to stay connected to schools. School districts responded to this pandemic as members of their communities, not just places where students obtain instructional hours and credits. We cannot discontinue service to students and families because students are not enrolled, attending, or engaged. School districts proved they are important safety nets in their communities. Funding for education must reflect those whole child services and account for students engaged with instruction as much as for those only student enrollment for FY22 and FY23 simply will not supply enough funding for us to open our doors at all of our 144 campus locations and 30 district-authorized charter schools. 
APS supports legislation that goes beyond holding funding harmless, but ensures adequate funding to re-engage, support learning loss from the pandemic, and open the doors safely for all students in our community.
In reality a funding formula built on fluctuations in enrollment has long been unresponsive and inadequate to the work of schools, particularly schools in high poverty communities. COVID continues to shine the light on inequities in society, but it did not create these problems; it merely is leading us to more solutions with unprecedented urgency. Funding formulas can no longer force districts to only spend time, energy and resources on students in a seat, but must account for the cost of keeping students in those seats. These fluctuations in enrollment we are seeing on a large scale, nationwide due to the pandemic, are trends and experiences all too familiar to our high poverty schools with high percentages of at-risk students on an annual basis. Student and staff mobility and fluctuations in funding due to changes in student enrollment are longstanding blights on the efforts of school redesign and reform for schools that serve at-risk students. COVID taught this lesson to all of us on a large scale, but it is not a new obstacle faced by our schools in the state that serve the most at-risk students. 
APS supports and recommends that the Public Education Department and the New Mexico Legislature study the most effective and efficient ways to measure student enrollment for funding. This is important particularly for schools and districts that serve at-risk students, in order to provide a stability of funding that to keeps our most vulnerable students engaged in our most impoverished communities.
Equity.
If, through the Yazzie/Martinez decision and the global pandemic, we identified the problems in our New Mexico schools, then the solutions reside in creating systems that provide frameworks and structures for equity. We will not achieve equity in career technical education and college-ready programs if they remain available as competitive grants or unsustainable, below-the-line programs at the state or federal levels. We will stumble to connect the students to the curriculum if we under-fund instructional materials or fail to make the funding flexible to purchase culturally and linguistically responsive materials. Universal broadband access is no longer a luxury or an accessory to education. Schools with vision, strategy, and the luck of grant funding are not the only ones that deserve community school frameworks and staffing. Root causes for achievement gaps exist within the margins of our whole society, not just within the walls of our classrooms. This pandemic did not create these inequities, but it does demand that we no longer look away or simply return to normal; we must build and sufficiently fund new systems. We must work to identify requirements for class size equity to ensure that the students who need the most support are given that in a smaller more personal environment. We also need a systemic approach to college and career preparation to be made available for all students no matter their location, background or current life goals.
APS supports legislation that addresses the whole child through sustainable, SEG funding. 
APS supports legislation that brings state agencies, community partners, and businesses, to school districts to solve problems of equity through coordination and collaboration. 
APS supports legislation that provides local control and sufficient funding to solve inequities and narrow the student achievement gaps, by engaging school districts in the creation of statewide systems of data collaboration and frameworks for accountability. 
APS supports legislation that provides flexibility in Instructional Materials law so that schools and districts can acquire culturally and linguistically responsive materials through a fully funded, Instructional material fund. 
Student Achievement.
Efforts to improve student achievement and close achievement gaps are inextricably linked with equity, sufficient funding, and local control. The remedies do not reside in assessment and seat time or returning to more of the same of a past, normal school year. The remedies reside in culturally and linguistically responsive education and educational reform that validates the existence of every child and ignites their individual passion to learn. The state has long supported K5 plus and an ELTP as evidence based programs, but the magic is not in meeting the exact program requirements, the magic is creating new systems by virtue of funding more time in the school for a school to redesign, slow the pace to validate every child, build relationships, engage community supports, and allow the teachers to focus on essential learning and student enrichment. Three of our most successful community schools in APS are also schools with an extended learning day that provides for embedded teacher professional learning and personalized student learning through a genius hour. The funding needed to sustain these models in high poverty communities is at risk because they do not meet programmatic requirements of New Mexico statute, despite equivalent hours and three years of efficacy and evidence of redesign. State statute should not just prioritize and fund programmatic requirements over the local models that embrace the spirit of creating evidence-based models through extended learning. While money sits unused in the education reform fund, our high poverty schools continue to need support and redesign even if they cannot meet the programmatic requirements. Innovation, school choice and autonomy drive innovation and student achievement; traditional schools should be allowed the same flexibilities in state statute and administrative code as charter schools when on a path to school reform.  
APS supports legislation that creates flexibility to implement extended learning programs through extended days or equivalent hours. 
APS supports legislation that grows dual language programs, resources, and staffing. 
APS supports legislation that recognizes student personalized learning through acceleration and enrichment as best remedies for Yazzie/Martinez and any learning loss due to school closure.
Education Workforce.
APS requests funding and policy frameworks to recognize our role as a large employer as well as our dire need to fill positions in our district. As employers, school districts need a seat at the table for creating the workforce we need prepared to address the challenges of Yazzie/Martinez. It is far too costly for the state to fund districts to continue to "catch up" on necessary training once we employ an educator. We  seek operational funding and local control for professional development and for educator professional residency programs. We also seek input into the design of educator preparation programs. Additionally we acknowledge that compensation increases are difficult, but the health and safety of students and staff is paramount. Insurance premiums should be sufficiently funded to ensure that the employees' health and safety is always supported and available at an appropriate cost. Healthcare costs will continue to rise as a result of the global pandemic, and we must set our path on a hard landing instead of a huge cliff down the road.
APS supports legislation that creates educator preparation programs with high standards and legislation that recognizes the role of K12 in developing the educator pipeline.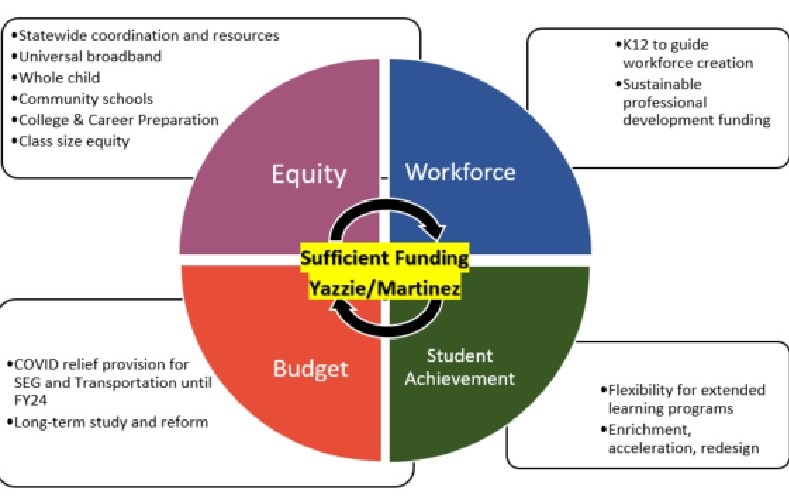 APS Board of Education: President Dr. David Peercy—Yolanda Montoya-Cordova—Peggy Muller Aragón—Lorenzo Garcia—Barbara Petersen—Candelaria Patterson—Elizabeth Armijo
APS Interim Superintendent Scott Elder elder_s@aps.edu
APS Government Affairs: Heather Bassett----Joseph Escobedo---Art Melendres—Brenda Yager
heather.bassett@aps.edu-----escobedo_j@aps.edu---amelendres@modrall.com--yager@aps.edu
 2021 Legislative Agenda
2021 Top Priorities