Community News
Posted:
December 15, 2015
Our Kids, Employees Give from the Heart
Almost every APS school is doing something to help others this holiday season. Let us know what's happening at your school.
Our students and schools often are the beneficiaries of a generous community that shows its support on days like #GivingTuesday and throughout the year, and we are truly appreciative.
But APS students, employees and families just as often give as they receive, donating money and time to those who are less fortunate. In fact, it seems like every one of our schools does something to help others during the holiday season.
We've compiled a sample of just some of the kindness that's happening in our schools. Let us know what's going on in your school, and we'll add you to this list over the coming weeks. You can email Johanna King at king_joh@aps.edu or Joseph Escobedo at escobedo_j@aps.edu.
We'll also share on social media if you mention us @ABQschools.
Thanks for sharing and for all you do!
Week of Dec. 14, 2015
Atrisco Heritage Academy HS
34 AHA classes adopted 38 under privileged children in the school's attendance area and provided them with a day of celebration that included food, gifts and fun activities. Jaguar Adopt a Child is an annual service project coordinated by the AHA Chapter of the National Honor Society – it could not be accomplished without the dedication and commitment of our students and teachers. This is the second year that AHA has "adopted" elementary students who are chosen by a referral process by elementary school counselors and social workers from Rudolfo Anaya, Edward Gonzales, George I. Sanchez, Mary Ann Binford and Pajarito Elementary Schools. 
Week of Dec. 7, 2015
Mitchell ES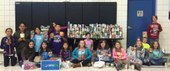 The Mitchell Mustangs collected $1,131.37 for the family of fallen APD Officer Daniel WEbster. The Albuquerque Police Officers Association and APD recognized the students with blue cupcakes a a way to say thank you.

The Mustangs also collected 950 pounds of food for Roadrunner Food Bank.
Hoover MS


Students were challenged to collect canned food items in their classes for needy families. The goal was to collect 600 cans to give to the YMCA as part of their food boxes. The Hawks exceeded that goal by more than 2,000 cans! Roadrunner Food Bank collected the extra food. 
The food bank brought two bins to the school fro students to fill. The science classes collected more than 3,000 cans of food, which was shared with the Mountain YMCA and the Barrett House in addition to Roadrunner Food Bank.
Week of Dec. 1, 2015

Marie Hughes ES


Marie Hughes held a penny drive for the Juvenile Diabetes Research Foundation and raised $1,093.84. That's a lot of pennies. In fact, they nearly filled two 5-gallone water jugs. One class raised more than $280, earning them a pizza party. A student who has diabetes made the morning announcements each day and encouraged donations.
Marie Hughes and Ventana Ranch elementaries
The two elementary schools held a friendly competition to see who could collect the most non-perishable food items in what they called the APS End Hunger Games. Marie Hughes edged out Ventana Ranch, but the two schools collected about 3,000 items for the Westside Food Pantry and Mobile Food Pantry. 
Truman MS


Truman Middle School students and teachers collect canned goods and build Thanksgiving baskets for families in their community. Teachers and staff donate the turkeys. Students decorate the baskets with their team. The baskets are then judged by the staff before given away to the families. The winning team is awarded a doughnut party. Truman provided more than 50 baskets to families in need.  
Manzano HS


The basketball team sorted food at Barrett House.
Eldorado HS
During the annual Eldorado High School Culinary Arts Cupcake Wars, students compete to sell the largest number of cupcakes to support their charity of choice.
This year's winner, Caramel Apple Craze, raised $600 that was donated to the family of fallen APD Officer Daniel Webster. A check was presented on the family's behalf to Police Chief Gordon Eden Monday, Nov. 23.
"We know that Michelle and the Webster family are very grateful." Chief Eden told students during the presentation.
"This gives students the opportunity to learn how to work together and how they can give back and make a difference," said EHS culinary arts teacher Kristin Meyer.
"It is always awesome to watch an entire school come together to support a program, and even cooler to watch that program put the money to a good cause," said EHS Student Body Vice President Jake Debevec.
"Cupcake Wars is a great event and I'm so glad we were able to do it, and make a difference while having fun!"  said student Katie Lopez, a cupcake team chef.

Rudolfo Anaya ES
Students at Rudolfo Anaya collected food for Humble Fish.
Hayes MS
AVID students at Hayes Middle School took time from their studies to help Gift Givers Anonymous, an Albuquerque non-profit that does small acts of kindness year round. Students helped make holiday decorations and gift bags that the organization will use when they present gifts to those in need or crisis.  The students said that the project had an impact on them personally. Watch the video.
Desert Ridge MS
Students and staff gathered enough food to support 20 families during a Thanksgiving food drive.

Jefferson MS
Student Council prepared food baskets for families in need. Teachers gave up part of their Saturday to help.
Cibola MS
The Cougars prepared Thanksgiving food baskets for 28 families.