Homepage Elements
A quick overview of the homepage and its elements.
Alert banners:
APS Alert – reserved for district wide emergency news
School Alert – reserved for school specific emergency news (lockdowns, shelter in place, etc).
The Web Team will post the emergency news for these banners.
DO NOT DELETE, edit, move or post to these banners.
Phone and Internet outages at your school will also be posted on your website. They will not appear in an alert banner, but will appear in the same spot as the alert banners (underneath the top level navigation, above the slideshow)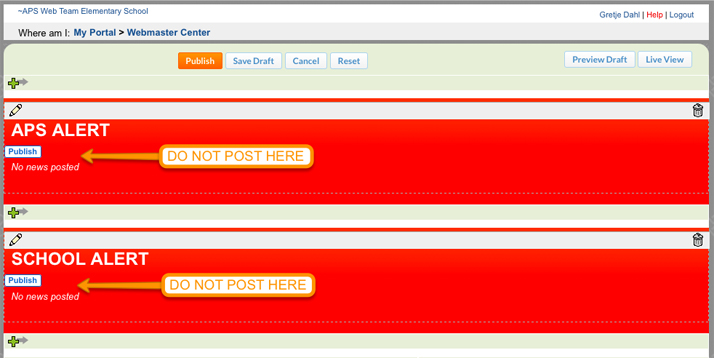 Slideshow and News:
No elements should be added in the space right above or below the slideshow or the news element. This is to keep your homepage from becoming too long and pushing your other content too far down the page.
The slideshow or news element can be moved/substituted with current announcements that need to be featured in a prominent spot on the homepage.
The news element should never be deleted. It can be moved but not deleted. (learn more about how the news of your homepage gets sent to the APS app)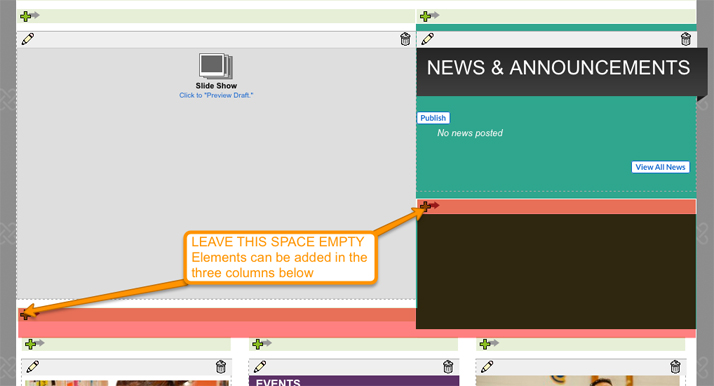 Bottom three columns:
The right column features the District News and District Events. This element automatically updates with the top news and events from APS.edu and are a standard item on each APS school website. Please do not delete these elements.
More elements can be added anywhere in any of these three columns.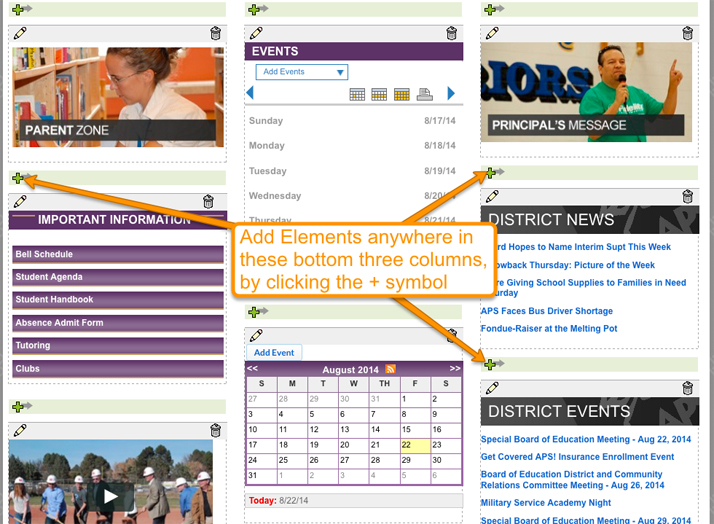 Updating your Homepage:
Best practices for web design calls for a short and relevant homepage. Update your homepage often with short previews of the detailed information that can be found in other sections of your website (use hyperlinks).
Pictures get people's attention, updating the slideshow frequently will keep users coming back to your website. Be mindful of the children you show in these pictures. Permissions need to be in place.
Not all updates to the website have to be posted on the homepage. Most of the information actually has a better spot in an already existing section (e.g. vaccination information should be posted in the Health Room/Nurse section).