Make a School Calendar
A guide to creating a school calendar for your Google Site.
Learn more about editing and sharing your calendar.
From Google docs

1.    Google Calendar lets you create multiple calendars that can be shared with specific people or published for everyone to see. Each department or teacher can have a different colored calendar so that you can see what is happening across departments at a glance.




2.    In Google Calendar, click the Add link below on the left of your calendar.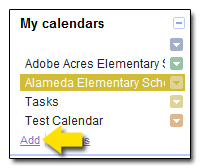 or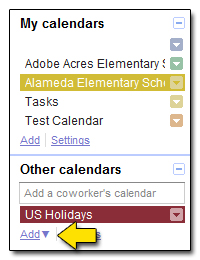 On the set up page, enter the name of your calendar.




Choose the option to make your calendar public so that anyone accessing your site can see the class calendar.





Note: Make sure to only include information that anyone can see on this calendar. If you would like to create calendar that only parents or other teachers can see, you can choose to share that calendar with them explicitly instead of making it public.





Once you have set up your class calendar, click the Create Calendar button to save it. You can create multiple calendars for classes departments or external events. Just repeat the steps above for each new calendar. Each Calendar that you create will appear under My calendars.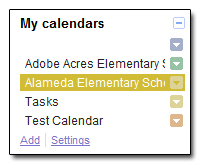 3.    You can add tests, school plays, field trips, parent-teacher conferences or any other important events to your calendars. Just click the Create Event link on the left side of your calendar.





Then, enter your event and choose the correct calendar from the Calendar drop-down menu. Enter a time and location and any other important details. Then, click Save.




4.    To embed your calendar in your site, click on Edit page in the upper right corner of your site. Then click Insert and choose Calendar from the list of options.

You'll see a list of your calendars. Select the one you'd like to embed, then click Select.

Leave the Width field blank so that the calendar displays properly on your site.




Once you click Save, you will see your class calendar in your class site.


Document Actions