Tables in Web Pages
Guidelines for Accessible Tables
Tables can take one of two forms: layout tables and data tables. Layout tables are used to position elements on a Web page and have largely been replaced by Cascading Style Sheets (Css) to control positioning/layout. Data tables convey a relationship between two or more items represented by row and column headings. 
Best Practices for Data Tables
Data tables have a Caption
Data tables identify Row and Column Headers and do not have empty cells or headers
Display simple tables, rather than complex tables wherever possible, minimizing the use of merged cells
Do not define table or cell widths -- they let the browser determine width
Learn More
Instructions for Webmasters and Editors
Example of accessible table:
Birthday Cake Preference

| Name | Preference |
| --- | --- |
| Joe | Carrot |
| Beth | Chocolate |
| Bob | Fruit |
| Mary | Vanilla |
Create the table in the WYSIWYG editor
Edit your page and select Insert/Edit Table.

Edit columns/rows and add a Summary.

In the Advanced tab, check Table Caption -- the Summary and Table Caption provide context and explanation for users with screen readers.
 
Edit the cells of the table -- the first row is for the Table Caption.

To add a row, right click a cell and select Row, Insert Row Before.

Edit the HTML code
Now we need to identify Row and Column Headers in the HTML code — the headers are read aloud from screen readers to users and they help users understand the meaning of the data.
Click Edit HTML Source.

Change the column headers from <td> to <th scope="col">text</th>
Make sure to edit the closing </td> tag to </th>

Change the row headers from <td> to <th scope="row">text</th> 
Make sure to edit the closing </td> tag to </th>

Table headers on both columns and rows tell screen readers how to interpret the data for the user.
 
Columns and Row Headers are bold in the table.

Edit a Rich Text Editor Element.
Click the Table icon: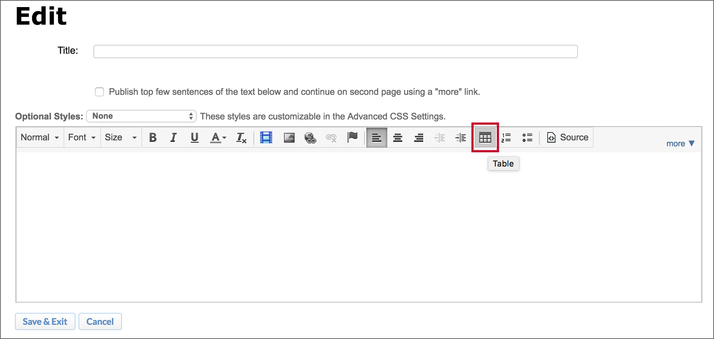 Click the Headers drop down menu and select Both.
Edit both the Caption and Summary.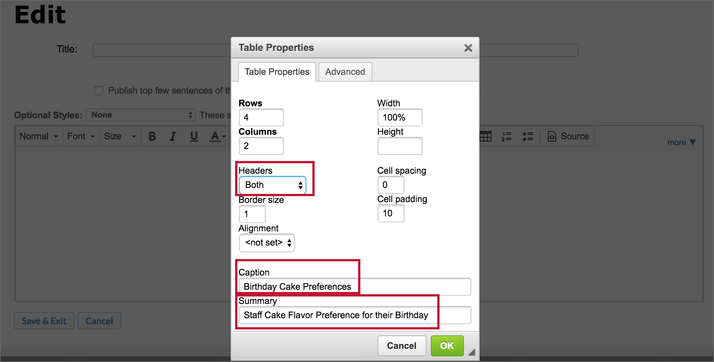 To add rows, right-click the table and select Row, Insert Row After.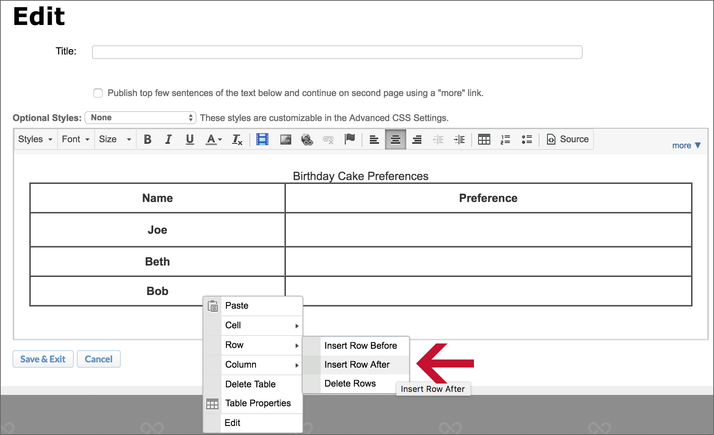 Accessible tables have bold column and row headers: