Web Team
Helping APS communicate with parents, students, employees, and the community.
Contact Information
Physical Address:
6400 Uptown Blvd. NE Suite 630 East Albuquerque 87110 Map
Phone: (505) 881-8421
We manage the APS district and department websites, 140+ school websites, and provide educational videos, graphic design, and multimedia. We work to unify APS' web presence by building websites and applications for APS schools. The web team offers webmaster educational training, web support, and instructional tutorials.
The District Website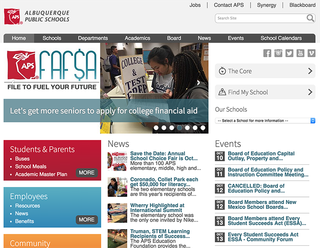 The district website (www.aps.edu) is powered by Plone, a free, open source content management system that allows the district to communicate easily with parents, students, and employees.
Features of the district site include the Google Search bar, an employee directory, and an emergency news notification banner.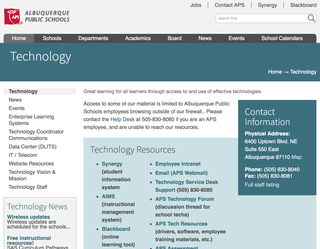 The APS department sites are also powered by Plone. The Web Team offers training for contributors to update the department websites, and continues to provide support and development for those sites.
The Web Team works to unify APS school websites in the district. School websites use the School Loop content management system, which allows administrators, teachers, and staff to post and maintain information about their school. School editors can register for training through ERO. Search for Course Code APS003004 or Course Title "School Loop: Webmaster Training" to register for the next session.