Family Engagement
Support for Title I Public, Charter and Private Schools in Family Engagement.
Contact Information
Physical Address:
912 Oak Street SE Building M, Title I Albuquerque, NM 87106 Map
Phone: (505) 253-0330
Fax: (505) 880-3997
Title I District Family Engagement Process and Procedural Directive


What We Do
We provide support for Title I Public, Charter and Private Schools in Family Engagement in the following ways:
Provide technical assistance with planning of your School Family Engagement Policy and School Compact
Provide information about Title I budget questions
Guidance on how to best spend your Title I Family Engagement dollars
Professional Development around building capacity and engaging families
Provide survey opportunities to use family input to drive family engagement programs
Offer yearly Family Engagement Institutes to bring family engagement professionals from around the state together to share and learn from experts in the field
Offer phone, email and direct site support throughout the year
Obtain family input through quarterly Family Advisory Meetings including the District Title I Support Agreement and Procedural Directive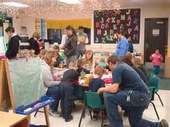 Now it's easier than ever to become a volunteer with the Albuquerque Public Schools thanks to a new online application process.
Three decades of research provide convincing evidence that parents are an important influence in helping their children achieve high academic standards.  When schools collaborate with parents to help their children learn and when parents participate in school activities and decision-making about their children's education, children achieve at higher levels.  In short, when parents are involved in education, children do better in school and schools improve.1
1 Lewis, Anne C.; Henderson, Anne T., Urgent Message: Families Crucial to School Reform, 1998
Frequently Asked Questions
Resources for Parents
Below are common questions parents/staff have asked about the program.
Can we spend Title I money on cakes for the end of the year celebrations?
No, Title I dollars are to support parents in working with their children in academic areas in reading, math and science.
Can we use Title I dollars to pay for background checks for parents wanting to volunteer in the classroom?
Yes, funds can come from a school's Title I Family Engagement "Other Charges" account or other Title I accounts.  First check the APS website under "

background and fingerprinting

" for the latest information on the process.  This will be a school-by-school decision with the principal and parent group, based on the goals and amount of funds available.
How often do we need to revise our School Family Engagement Policy and Compact?
The Policy and Compact must be revised with families annually.
Do we need to change our School Family Engagement Policy every year?
No, If the parent action team or other interested parents have had a chance to review the policy and elect not to make changes, it will only need to be updated (contact information, volunteer coordinator, revision date, school year).  Schools are required to provide documentation related to those meetings: agenda, sign-in sheets, and minutes of all meetings, flyers or newsletters advertising those meetings. 
 Why do we need a Title I Annual Meeting every year?
It is a requirement to inform families of the opportunities for involvement, decision-making and volunteer opportunities at their school.  It is a time to share your school grade results, explain what your school is doing to make progress and share your successes.    Parents need to know that they have a voice in how Title I dollars are spent in their school in both the regular Title I budget and Title I family engagement funds.
Can teachers be paid from Title I Family Engagement funds to do activities with families?
Yes, if there are funds available and that is what parents have requested.  Example:  Parents have requested to have a night meeting about the math program.  Teachers prepare games and handouts that address the program and common core state standards to share with parents and students.  Teachers could be paid a stipend for this service.
Can Title I funds be used for transportation to attend parent activities and meetings at school?
Yes, however this is expensive and may use a large part of the Title I Family Engagement budget, or all of it, for just one meeting.  Remember this must be something that has been agreed upon by parents.
Can Title I funds be used to provide classes for parents/guardians?
Yes. Many schools offer classes to parents/guardians, as long as it ties into reading, math, science, common core, assessment, graduation requirements, parent leadership training, and ways of helping their students be successful in school. Building relations between families and schools is key to getting more families to attend information meetings that will benefit the whole school community.  Again, is this something requested by parents?  Sometimes funds will be available from other sources to provide those extra classes that parents are interested in.  Title I is only one source, look to your community to seek out additional opportunities to build partnerships.
Can I see the Educational Plan for Student Success or WebEPSS at my local school?
Yes, Title I schools will have a copy in the office or posted to their website.  Schools cannot give access to the WebEPSS itself, as it is a live document.
What is Title I?  What impact did the waiver have on family engagement?  What changes are coming? In December of 2015 the President signed the new law called Every Student Succeeds Act (ESSA). The parental involvement provisions in Title I, Part A of the ESSA reflect these principles:  Specifically, these provisions stress shared accountability between schools and parents for high student achievement, local development of family engagement plans with sufficient flexibility to address local needs, and building parents' capacity for using effective practices to improve their own children's academic success.