Throwback Thursday: Picture of the Week
August 21, 2014: America's Got Talent
August 21, 2014
For today's #ThrowbackThursday post, we go all the way to 1989 to Jefferson Middle School where Andy Cook was a 6th grader! Today, Andy is in the semi-finals for America's Got Talent and his act is Aerial Animation. So awesome to see #APS alumni doing amazing things far and near! Good luck, Andy! #WeAreAPS #TeamAndy #AGT #TBT

Submit your pictures directly to maralyn.beck@aps.edu
----------------------------------------------------------------------------------------------------------------
Help Us Tell The APS Story Through #ThrowbackThursday Pictures!
Do you have a special photo of APS history that we should share as part of our #ThrowbackThursday fun? Please send the picture, with the caption, to our communications team at maralyn.beck@aps.edu -- Don't forget! This is supposed to be fun! A #ThrowbackThursday pic could be thirty years old, or maybe just thirty days! Help us tell the APS story and embark on this fun project!
----------------------------------------------------------------------------------------------------------------
Throwback Thursday Archives:
August 14, 2014: We want your #TBT pictures!

Welcome back to school! Today's #ThrowbackThursday picture is a CALL FOR MORE #tbt pictures!
Every Thursday, we feature a fun picture on our website and on social media that helps us document APS's great history. Maybe it's a fun picture of your first day of school, or an event last year, or better yet, a picture 20 years ago! Big hair, wild fashions, and retro anything are ALWAYS a plus. So, dig through your old photos, and find some good ones. We'll feature our favorites every week. Submit your pictures directly to maralyn.beck@aps.edu.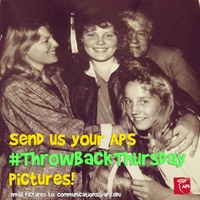 August 7, 2014: A look back at technology!
For the first #ThrowbackThursday post of the new school year, it seems right to reflect on how much has changed over the years! We found this picture above from the 1950 Albuquerque HS television studio, where the students pictured above report that they were the FIRST high school group in America to broadcast a television performance! Boy, was technology crazy in 1950! TV, radio, and mail service! Today, we have SnapChat, KIK, WhatsApp, Twitter, IG, etc. What's your favorite technology in 2014? #TBT #WayBack #Perspective #GoBulldogs #AHS
Picture courtesy of "Education in Albuquerque," by Ann Piper (2014)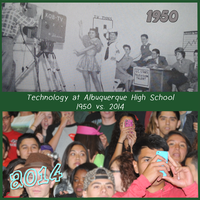 May 15, 2014 - Share your graduation advice with the Class of 2014.
In honor of our APS Graduation Week, we have decided to do something slightly different - but special - with today's "Throwback Thursday."
We want to #ThrowbackThursday to when YOU were a high school graduate. What do you wish you knew then, that you know today? Help us get interactive -- and #ShareYourGradAdvice with the graduating Class of 2014.
If you have a token of advice, or piece of wisdom, we would like you to share it with us on Facebook, tweet it to us on Twitter, comment on our Instagram page, or you may email your thoughts to our communications team, and we will continue to post these gems on social media in the coming weeks.
Thank you. We hope you enjoy this post as much as we do.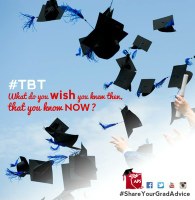 May 8, 2014 - A look back at the graduating Class of 2014: Jackson MS 8th grade class trip in NYC 2010
Today's #ThrowbackThursday picture is a fun one — it's the Jackson Middle School students on the Washington DC/New York City 8th Grade trip from 2010 in NYC Times Square! It's crazy to think how much changes in just four years…. These students will all be graduating next week as part of the Class of 2014! Congratulations! #ClassOf2014 #TBT #ThatHair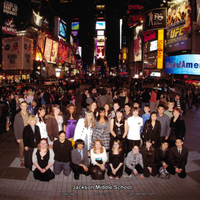 May 1, 2014 - Learning about Sputnik in 1957
Today's #ThrowbackThursday picture comes to us from the new book, "Education in Albuquerque," by Wilson MS principal, Ann Piper. The United States received a "wake up call" in October of 1957 when the Russians launched Sputnik. A sudden interest in science and math swept across America's schools, and Albuquerque – home to Sandia Labs – was no exception. Pictured here are APS students from the 1950's demonstrating their skills.
April 24, 2014 -- 1969 Albuquerque Aerial View
Happy #ThrowbackThursday! This picture is an aerial view of one of our high schools, taken in 1969! Can you guess which one? Eldorado! Crazy how so much has changed in the last 45 years!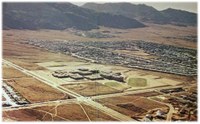 April 10, 2014 - A long history of APS pride!
Happy #ThrowbackThursday! Today's submission comes to us from Celine Lopez, the technology teacher at Helen Cordero Primary School.
Celine writes, "This pictures is of me in my first official year as an APS teacher, 1981-82, at Carlos Rey (my first year was as a UNM intern at Kirtland Elem., 1980-81).
The second child, top row, blue dress, white collar is Melanie Chavez. She grew up and by CHANCE was my student teacher,  6 or 7 years ago, I think. She is now teaching at Sierra Vista Elementary School and we are still in contact. I am also in contact with other grown, former students, on Facebook, as they have "found" me and contacted me, saying I "... was their favorite teacher". They have blessed me with this and other group photos taken when they were in my class.   :-) I have also included pictures of Melanie and I and how we look now. We are both still teaching for APS. #APSPride."
Thank you for this wonderful submission, Celine. We love how social media can bring us all so much closer together -- and we certainly love your #APSPride!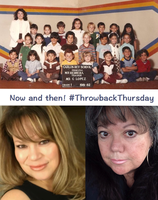 April 3, 2014 -- Guess Who! (Happy National Assistant Principals Week Style)

We've decided it's time for another "Guess Who" edition! In honor of National Assistant Principals Week, today we are featuring one of our amazing APS Assistant Principals, in this picture from 1978!

The assistant principal in this picture is with his Albuquerque High School DECA chapter getting ready to take their bus to Carlsbad for the DECA State competition.

UPDATE: If you guessed Larry D'Anza, Assistant Principal at Sandia HS, you are correct! Thanks for this great picture!
March 27, 2014:
Today's #ThrowbackThursday post is of our first class of #APSSelflessSeniors ever, in 2008. Today, we will honor 27 outstanding individuals as they join this elite group of selfless high school seniors from throughout our great district and Albuquerque. We want to say an extra special thank you for all you do. Congratulations to the 2014 class of APS Selfless Seniors and congratulations to our long, outstanding history of success with this wonderful program. #WeAreAPS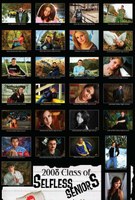 March 20, 2014:
In honor of national Sunshine Week, we have decided to highlight one of APS's many past awards for outstanding transparency in government websites as today's #ThrowbackThursday post. In the past three years, not only has APS received this award, but we have have received an A+ on our level of transparency and accessibility of our public information. We are very proud of these achievements and we are happy to share this as today's #TBT.
We'll keep you posted if we hear anything on our 2014 award status!