Summer School Graduation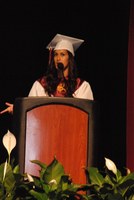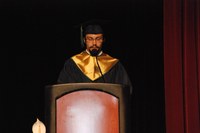 Safety Tips
The following items will not be permitted into the graduation ceremony:
Food or drinks (including bottled water)
Balloons
Signs
Noisemakers (whistles, loudspeakers, foghorns, etc.)
No vases (floral arrangements in glass containers)

Guests wanting to bring bags for for diapers, cameras, or medical needs will be searched before entering the building.

Event coordinators will be available at the event to guide guests and answer questions.

Security will be present
All 2015 Summer High School Graduation information (dates, times, locations, etc) are subject to change. Please check website often for updates.
---
APS 2015 Summer High School Commencement: TBA

WHO:  Seniors who have been cleared by summer counselors and their home schools to graduate; this may be determined as late as July 20, 2015.  Summer High School Counselors review transcripts to determine who has enough credits to graduate.  If you go through the line and do not have enough credits to graduate, then your diploma will be held by your high school until you complete the required credits. 
Note: Students will receive a certificate of completion at the ceremony but must go to their home school to pick up their diploma. (Please give schools 3 days after graduation to review transcripts)
 WHEN: 
Date: Tuesday, July 28, 2015
Student Arrival Time: TBA

Check In Procedure
Sign in (name, school)
Check cell phones, purses etc.…
Fill out Grad Images card if student has not filled out and turned in prior to ceremony
Rehearsal:  5:30-6:30 TBA
Guests Arrive: 6:30-7:00 TBA
Graduation Ceremony: 7:00-8:00 TBA
*Students must attend rehearsal or may not participate in the ceremony.
WHERE: 
Kiva Auditorium, Convention Center (401 2nd St NW, Albuquerque, NM 87102 (505) 768-4575)
Parking available in parking structures for $6 per vehicle
 ATTIRE:
Gentlemen wear a white shirt with collar and tie, dark pants (no jeans), dark socks, dark shoes.
Ladies wear a dress or nice pants, dark shoes with heels that you can walk well in.
CAP AND GOWN:
Campus Specialties, 1529 Eubank NE Ste. B, phone: 275-9357.  (Between Constitution and Indian School on the west side of Eubank)
Store Hours: TBA

1:00 p.m. to 5:00 p.m. through June 28th, Tuesday through Friday TBA
10:00 a.m. to 3:00 p.m. Saturdays through June 29th 

Campus Specialties are closed Sundays and Mondays, AND CLOSED ALL OF JULY
EXCEPT they will be open on July 28th from 10:00 a.m. to 3:00 p.m.
 COST:  If you've already paid for a gown this spring, they're holding it for you.  If you DID NOT yet pay for one, you need to hustle over there; they have limited sizes and limited "extras" available.   Have $50.00 in cash, money order, or cashier's check.  NO PERSONAL CHECKS are accepted.  You will get a gown in your home school colors.
 WHO CAN ATTEND THE GRADUATION CEREMONY:  A predetermined number of tickets will be distributed at each summer school site through counselors to students based on the number of summer graduates participating in the ceremony.
Note: Because space is limited every person will need a seat and therefore a ticket.  This also includes infants in carriers.  Carriers and strollers are not allowed in the aisles and strollers will be checked in at the door.