Summer School Master Course List and ESL Information
APS High School Summer Learning offers all core content courses and are taught according to Common Core State Standards curriculum guidelines. All courses are taught by Highly Qualified content area instructors.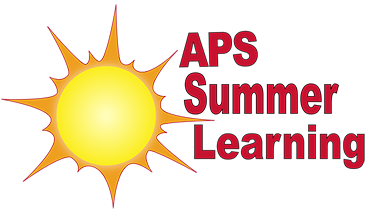 APS High School Summer Courses
NM History
US History/Geography
World  History/Geography
Government
Economics
English 9, 10, 11 & 12
Algebra I & II
Geometry
Transition to College Math
Pre Calculus
Biology I
Chemistry I
Physics
Health
Integrated Physics Chemistry 
As of May 13th, 2017 ALL PE SECTIONS ARE CLOSED DUE TO MAXIMUM ENROLLMENT  Physical Education (P.E.)  
Electives may be offered –to be determined by school site.
2017 Master Course List SEMESTER 2 COURSES ONLY
As courses close due to maximum enrollment, we will update the list.  As of May 13th, 2017 all PE sections are closed due to maximum enrollment.  
 Please note abbreviations in Section ID:
AHA

Atrisco Heritage High School

CEC

Career Enrichment Center

ECD

Ecademy Campus

SHS

Sandia High School

AM 7:45-12:00 session
PM 12:45-5:00 session
ESL Summer Courses
The Language and Cultural Equity Department provides English as a Second Language (ESL) summer courses for students who are currently enrolled into ESL programs through their schools. 
For more specific information on ESL programs contact Language and Cultural Equity at 505.881.9429.
ESL summer courses will be offered only in the AM Sessions (7:45 a.m. - 12:00 noon) during Semester 1 at Atrisco Heritage Academy and Sandia High School.  Both semester 1 and semester 2 credit is available, however ESL courses are only offered June 5-23rd, 2017 during summer school.
To enroll and schedule ESL course the student will need to 
Consult with their High School counselor and enroll into 2017 Summer School.  
Receive a copy of the

Consultation Form

from their counselor with course information.
Call and make an appointment with APS Summer School office staff to schedule the course.  Please call 855-9870 or 855-9899 to schedule an appointment.  Please bring your Consultation Form to the appointment.
There are no tuition fees charged for High School Summer School ESL programs.