Welcome to 2018 High School Summer Credit Recovery
SEMESTER 2 REGISTRATION ENDED TUESDAY JUNE 26th High School Summer School is for students in grades 9-12 who need to recover credits (2 credits maximum) in order to get back on track with graduation requirements. Graduating Seniors have enrollment preference and priority. 8th graders who will be Freshman by August 2018 may take PE during the summer. 8th graders need to Pre-Regisiter with their Middle School counselor. Due to the accelerated pace of summer school, credit advancement (taking core content courses to get ahead) is NOT recommended.
Contact Information
Physical Address:
6400 Uptown Blvd. NE
Suite 600 West
Alb., NM 87110

Phone: (505) 855-9871
Fax: (505) 855-9877

THE BASICS

Starting on Monday April 2nd, 2018, interested APS students should meet with their counselors to Pre-Register for summer school class(es). Pre-Registration at APS schools will end Thursday May 24, 2018 (end of APS school year).  Students may still Pre-register after May 24 at APS City Center.  See APS STUDENT AND PARENT SUPPORT below for more information.

Summer courses will NOT be scheduled until summer school tuition is paid in full.

APS Parents are encouraged to pay tuition online with SchoolPay.  You may access SchoolPay through your ParentVue account. Please see your school secretary for more information about ParentVue and SchoolPay.  

NON-APS and APS Charter  school students may attend City Center Registration events in May and June.  Please go to Tuition, Payment, FRLP Discounts and Refunds web page for information and dates.
Summer school courses are offered on a "first PAID, first served" basis and a student's place in class(es) is NOT guaranteed until tuition is paid. 
BEFORE you enroll in summer school please contact Food and Nutrition Services/Program Eligibility at 505-345-5661 ext. 38206 to determine your status and tuition rate. The FRLP waiver must be applied for every year.   Tuition owed for summer school courses taken prior to 2015 must to be paid in full in order to register for the 2018 Summer School Program.
2018 Summer School Sites
Albuquerque High School
Eldorado High School
West Mesa High School
**eCADEMY High School (virtual courses) **For online classes, please see eCADEMY website for more information http://ecademy.aps.edu/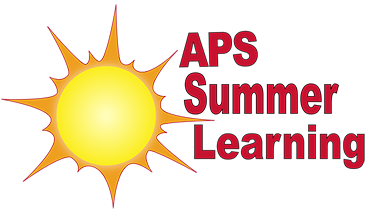 Dates
Semester 1  June 4 - June 22, 2108 (15 days)
Semester 2  June 25 - July 16, 2018 (15 days)
No summer classes on Wednesday July 4 in observance of Independence Day Holiday.
Graduation Monday July 23, 2018
Session Times
AM Session  7:45 a.m. - 12:00 p.m.
PM Session  12:45 p.m. - 5:00 p.m.
PE courses are only offered in the AM Session
Summer School Attendance Policy 
Due to each semester condensed into 15 days, students are required to attend daily for four (4) hours for each session (AM and/or PM).
CAUTION:  Absences are tracked by the hour and, due to the condensed semester, each 15 minute absence/tardy will count as one hour.  Students absent for a total of 8 hours will be dropped from the course and tuition WILL NOT be refunded.
NON-APS/APS CHARTER STUDENT and PARENT SUPPORT
Saturday Registration days in May and June are provided for Non-APS and APS Charter school students and parents.  Please bring transcript from your school showing what course(s) are needed for credit recovery.
NON-APS and APS CHARTER SCHOOL Registration Events
Saturdays May 5, 12, 19 and June 2 and 23 from 9:00 to 1:00. 
THE LINE CLOSES AT 1:00 PM.  If you are in line by 1:00, you will be served. 
APS STUDENT and PARENT SUPPORT
APS students and families can receive assistance with tuition payments, schedule and/or site changes, and refunds during the days/times below. 
WALK-IN Office Hours 
Tuesdays and Thursdays ONLY - 9:00am - 4:00pm, April 3rd through June 26 

Room 101, first floor, APS main office at 6400 Uptown Blvd. NE, Albuquerque, NM
GENERAL SUMMER SCHOOL CONTACT INFORMATION
The summer school office receives an overwhelming number of calls April - July.  If you leave a message we do our best to get back to you within 24 hours.  Best way to reach us is through EMAIL  HSSummerProgram@aps.edu
The High School summer school office DOES NOT accept credit/debit card payments through the phone or email.