Dr. Valentino's Employee Message for New School Year
"Our work is so significant that nothing less than excellent will do," Luis Valentino, Ed.D.
Welcome back, APS teachers and staff. Since officially starting as your superintendent on July 1, I have learned a lot about this community including what a remarkable group of people work for Albuquerque Public Schools.  I am excited to join you and to work with you into transforming APS into a high performing and nationally recognized school district.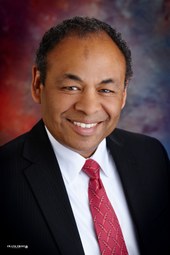 In many of my presentations and conversations I've shared the premise that every one of us in APS is a throughline to student achievement. Regardless of your position or title in the district, you each have a role to play in ensuring all students realize their potential. If I ask you to reflect back on a positive school experience you can probably identify someone in your school career that made a difference.  This reflection, for me, serves as a reminder that every conversation, each interaction, can have an impact that transforms a student's life. Our work is significant, so significant that it can determine the trajectory of a child's future. What a powerful and tremendous responsibility we all share as employees in APS and at the same, what an exciting place to work.
That's not to say that there isn't a lot of work ahead of us as well as challenges. But its incredibly rewarding work and I am committed to making sure that we, particularly at the district office, support you to be successful. I recognize and appreciate that every one of you brings your best to your position every day. Thank you!
As I welcome you back, I've been on the job for a month. I'm in the process of developing my 90-day plan that I will be sharing with the Board, with you and the community, in the near future. In the interim, I'm interested in hearing from you. I am looking forward to meeting you and having conversations with you. I will be out in the schools and attending department meetings as we prepare to launch the 2015-16 school year. I have shared with the Board and with the many different community groups that I've met that I am anxious to hear directly from students, teachers and staff. I want to know your perspectives, insights, suggestions and recommendations as we move forward.
I truly believe we can transform APS. I believe in the work you do. I invite you to share the excitement, the energy and hope that the beginning of a new school year brings. Together, we can make APS a rewarding and positive place to work and thrive.