Strategic Analysis & Program Research
Contact Information
Physical Address:
6400 Uptown Blvd. NE., Suite 400 East Albuquerque, NM 87100 Map
Phone: (505) 872-6807
Email: AskSAPR@aps.edu
The mission of the Strategic Analysis & Program Research (SAPR) Department is to provide the Albuquerque Public Schools (APS) Community with timely, accurate and actionable information. Work performed by the department includes: strategic data analysis; program evaluation and research; public and internal visualizations; review of all external and internal applications to conduct research in APS; and database design and technical support.
What is a visualization? Across SAPR's web pages, you will see the word visualization. A visualization can be a map, bar chart, line graph, table of numbers, Sankey diagram, word cloud and anything else that visually displays information. Take a look at the SAPR Public Visualizations page to see some of the visualizations currently available to the APS Community. If you are an APS employee, take a look at the APS Internal Visualizations page.
Quick Links:
Click here to interact with this visualization...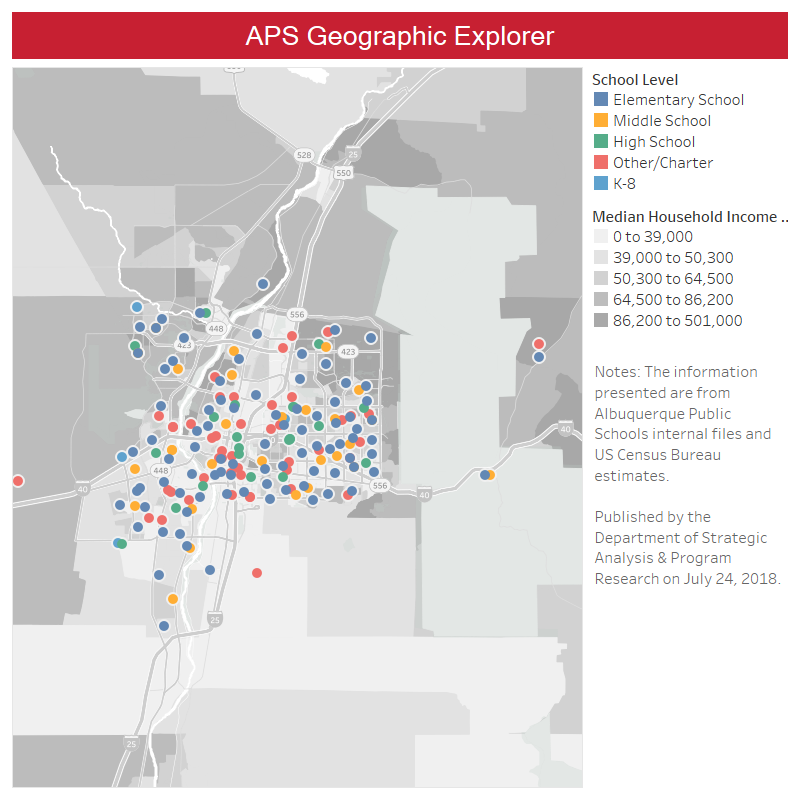 Click here to interact with this visualization...