Gemalto New Hire Pre- Register
HOW TO REGISTER FOR YOUR BACKGROUND CHECK AND FINGERPRINTING WITH THE NEW GEMALTO SYSTEM
AS OF NOVEMBER 5TH, 2013 ALL NEW MEXICO BACKGROUND CHECKS AND FINGERPRINTING ARE BEING
COMPLETED BY GEMALTO
BELOW ARE THE STEPS ON HOW TO REGISTER ONLINE:
GO TO https://www.aps.gemalto.com/index.htm          2. CHOOSE THE NEW MEXICO ICON                          
3.   CHOOSE REGISTER ONLINE FOR BACKGROUND CHECK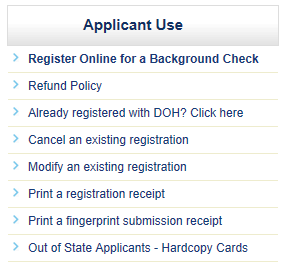 4. STEP 1 – ENTERING YOUR INFORMATION
PAYMENT OPTIONS                                                                           

CHOOSE PAYMENT TYPE: 
CREDIT CARD: YOU WILL PAY ONLINE
MONEY ORDER: YOU WILL GIVE TO APS FINGERPRINT TECHNICIAN
MADE PAYABLE TO: GEMALTO ($44.00)
CHOOSING THE ORI       
CLICK ORI LOOKUP- TYPE IN
PUBLIC EDUCATION DEPARTMENT (if the position being hired requires a license and you currently don't have one) Example: EAs, Substitute, Teachers, Coaches, etc...
 or
 ALBUQUERQUE PUBLIC SCHOOLS (All others)
CLICK SEARCH – DOUBLE CLICK ON RESULTS & THE FIELDS WILL BE FILLED IN FOR YOU                                                             


5. COMPLETE STEP 1 BY ENTERING YOUR DEMOGRAPHIC INFORMATION.
THE SS# IS A REQUIRED FIELD (FIELD IS NOT HIGHLIGHTED)
6. STEP 2 – VERIFY YOUR INFORMATION IS CORRECT
7. STEP 3 – COMPLETE PAYMENT INFORMATION (IF YOU CHOSE TO PAY ONLINE USING A CREDIT CARD)
8. WRITE DOWN YOUR REGISTRATION ID# OR PRINT YOUR RECEIPT PAGE
9. TAKE YOUR REGISTRATION ID# OR REGISTRATION RECEIPT & A VALID PHOTO ID TO APS FINGERPRINTING DEPARTMENT SUITE 105E AND THEY WILL TAKE YOUR PRINTS
10. YOUR PRINTS WILL BE SENT ELECTRONICALLY TO THE STATE AND FBI FOR PROCESSING
       YOU WILL NOT RECEIVE FINGERPRINT CARDS BACK FROM APS
11. YOUR BACKGROUND & FINGERPRINT RESULTS WILL BE SENT ELECTRONICALLY TO APS WITHIN 7-10 BUSINESS DAYS.