Posted:
November 17, 2014
News
Woodshop Class Converted into Santa's Workshop
Students from five APS high schools are making toys for younger students in need this holiday season.
Santa's elves are getting a hand with Christmas toy production this holiday season from high school wood working students.
Students from Eldorado, Valley, Highland, Manzano and West Mesa are working with volunteers from the Albuquerque Woodworkers Association to make 2,100 wooden cars, trucks, prams, whales, birds and doll beds with doll and quilt to be given to students in December.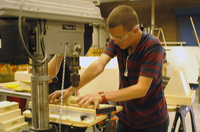 "I love woodshop, so getting to do this for a good cause is great," said Eldorado sophomore Seth Ives.  
For more than 25 years, the volunteer-based AWA has provided toys to disadvantaged New Mexico families, with partnerships at Valley High School since the late 1990s. In the past few years Eldorado, Highland, Manzano and West Mesa joined the project, allowing AWA to drastically increase donations.
The project has struggled financially in recent years because the company that used to donate the wood went out of business. AWA tried to pay for materials using a portion of their membership dues, but those funds were quickly drying up.
That's when Holman's USA stepped, picking up the tab for materials including wood, drill bits, band saw blades and sanding materials. Piñon Quilters and Tumbleweed Quilters are providing dolls and quilts for the doll beds.
"I love that it gets the high school programs involved. It engages the high school students and keeps the skill set going," said Anthony Trujillo, president of Holman's USA.
In the course of one week, each school produced nearly 500 toys with the help AWA volunteers-- a large number considering the complexity of each toy. The toy cars, for example, go through 11 steps before they are ready for distribution.
The 2,100 toys will be distributed just before the holiday season to homeless students and students in need at Adobe Acres and Wherry elementary students.
"I'm looking forward to the distribution," Trujillo said. "I want to be able to give back to the community, and give back those who need it the most."
The AWA also produces 1,350 toys to be given to children in need by the Albuquerque Police Department.