Sunset View Students Help Art Teacher Paint 19th Mural
Sarita Birkey has worked with 10 APS school communities on creating enduring murals that celebrate nature, health and diversity.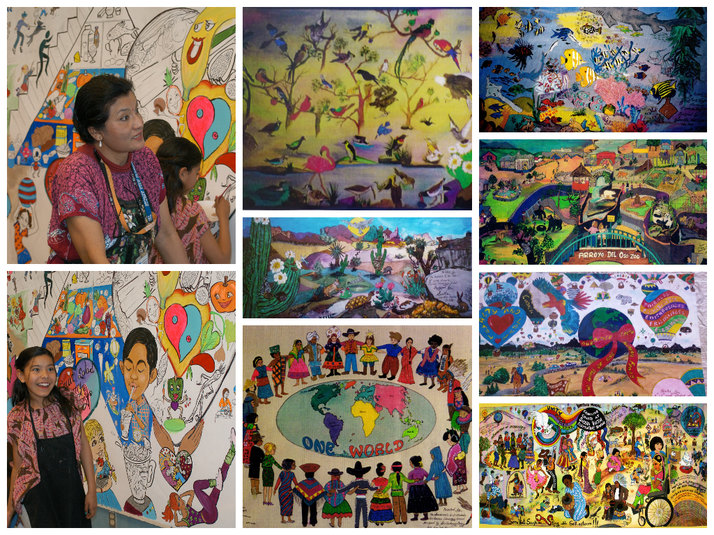 Elementary art teacher Sarita Birkey, top left, has created more than a dozen murals for APS schools.
As a young girl growing up in rural Nepal, Sarita Birkey sketched with charcoal on the kitchen floor, then wiped away her drawings before her parents returned from work.
These days, Sarita is drawing on walls, and no one is erasing her artwork. In fact, Albuquerque Public Schools students, families and community members are coming together to memorialize it.
For nearly two decades, Birkey has helped students and school communities create murals on a variety of topics including virtues, world citizenry, nature and diversity. Her wall murals can be seen at Petroglyph, Sierra Vista, Arroyo del Oso, Chamiza, Chaparral, Alameda, Los Ranchos, Marie Hughes, Sierra Vista and Sunset View elementaries. She also has created mosaic tile murals at Petroglyph, Marie Hughes and Sierra Vista and an outdoor planter mural at Marie Hughes. She created her first APS mural in 1995.  She also has created murals in Bernalillo, Rio Rancho and her native Nepal.
Her latest masterpiece is a canvas mural on healthy living currently hanging in a classroom at Sunset View Elementary School. Members of the student art club work after school and during lunch on adding vibrant color to the mural drawings. Others have lent a helping hand as well, including teachers, parents and community members.
The mural celebrates healthy living  and features school, local and national celebrities including school principal Dr. Linda Townsend-Johnson, PE teacher Joshua "Coach P" Perrault, Dr. Barry Ramo, TV personality Steve Stucker, President and Mrs. Obama, Sanjay Gupta and Dr. Oz.
Art club students Kaitlynn, Angela and and Isabella said they've enjoyed painting the mural's fruit, vegetables and young people who are exercising. They said they often play the Fruit Salad song as they work on the mural.
"What this mural says is doing activities is good for you, getting out there and doing things you love while staying healthy," said Kaitlynn. She points out the students in the mural who are running, biking, jumping on trampolines and walking their dogs.
The 17-by-17-foot mural will eventually hang in the hallways of the school, as so many of Birkey's murals do.
"Being an educator, it's a noble profession," she said as she talked about all of the contributions she has made to Albuquerque schools. "All I want to do is boost my students' self-esteem. I want to teach them to be brave and that it's OK to make mistakes. We all make mistakes. And then we come up with a plan B or C or even D."
Birkey, who is a professional artist in her own right, says she loves drawing and wants to share that passion with her students. "With drawing, you don't need a lot of money or a lot of supplies. Just the desire and a subject."