News
Students Turn Out in Force to Promote Election
Bubble Gum Brigade and Albuquerque Interfaith organized hundreds of volunteers.
West Mesa students get final instructions before hitting the streets.
Hundreds of students, parents and community volunteers have rallied around the 2013 APS election for capital improvements and the school board. They made a final push over the weekend to generate support for today's election.
At West Mesa High School alone, more than 100 students joined the Bubble Gum Brigade and passed out fliers along with the organization's trademark piece of bubble gum. More than 60 Sandia High students canvassed the neighborhoods around their school, while younger students walked with their parents near Mountain View and Marie Hughes elementaries.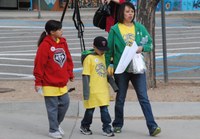 A Marie Hughes family heads out to distribute election information.
The Bubble Gum Brigade began 10 years ago as a grass roots West Side group that urged APS to build more schools quickly to solve overcrowding issues. Even after the district built 11 schools in a five-year period, the group continues to organize volunteers who walk through neighborhoods and distribute information to help get out the vote. And, they always leave a piece of bubble gum for voters as a reminder.
Election efforts also get a big hand from Albuquerque Interfaith, a coalition of church congregations that support community causes. Interfaith is based at La Mesa Presbyterian Church. The group sponsored a well-attended school board candidate forum last month.
"Support from the Bubble Gum Brigade and Albuquerque Interfaith has been invaluable over the years," APS Superintendent Winston Brooks said. "These folks put their own time and shoe leather into advocating for public school students, and we can't thank them enough."
APS has asked Bernalillo County voters to consider $368 million in bonds and mil levy to help rebuild, renovate and restore school buildings, which average 45 years of age. In addition, four seats on the school board are up for election.