Staff Member's Young Son Motivates Painted Sky to Raise $9,000+ for American Heart Association
Students and staff were inspired to find a cure for the infant who was born with heart disease.

Painted Sky Elementary raised more than $9,000 for the American Heart Association through Jump Rope for Heart -- the most raised by an APS school and the fourth most in the state of New Mexico this school year. The school surpassed its goal by $3,000 and nearly doubled what it raised last year.
Students and staff were inspired by a staff member's infant son who was born with heart disease. To keep everyone motivated, the school created a poster with pictures of the child named Micah and provided information about his condition and heart disease in general through PE classes.
"When I would receive a donation from a student the first thing they would say is, 'This is for Micah, the little boy on the poster,'" recalled PE teacher Pamela Noble, who is the school's Jump Rope for Heart coordinator. "I still get a little choked up thinking about it."
The large West Side school raised the money in a variety of ways. Students who normally wear uniforms had the option of paying $5 to wear jeans to school on Jump in Jeans Day during which the students spent the morning jumping rope outside to great music. All 1,100 students participated in what the school's PE teacher Pamela Noble dubbed a "Mob Jump."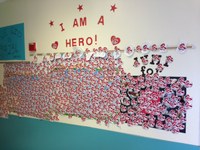 In addition, students who donated anything they could afford received a duck sticker to put on the "duck pond" that hangs on the school's wall. Student contributions ranged from pennies to $250 and the stickers more than cover the pond.
The grant total raised was $9,236.
"Our students are by far the most giving and caring students I know," Noble said. "We are a Title 1 school and most of our students come from families who have financial hardship, so for them to donate just pennies made them true heroes!"