School Uninterrupted Thanks to M&O Efforts
Fire heavily damaged two school cafeterias recently, but APS workers made sure both were repaired in time for breakfast.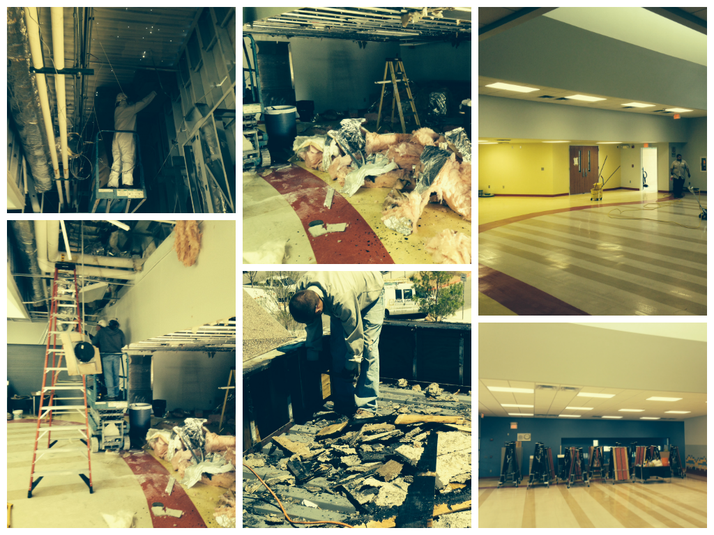 Before and after pictures at Zia ES following a fire during spring break.
Firefighters aggressively battled a fire in 59 mph winds at Zia Elementary the weekend before spring break. The fire, believed to be started by individuals atop the school's cafeteria, tore through the roof and damaged the building's north wall. While firefighters succeeded in keeping the fire from spreading to the rest of the school, there was a tremendous amount of fire, smoke and water damage.
One week later, kids were eating breakfast in their cafeteria on the day they returned from spring break.
APS Maintenance and Operations crews worked diligently that week – which included a holiday weekend for most employees – to make sure the students at Zia weren't at all impacted by the devastation of the fire.
"It's all about the kids," said M&O Executive Director John Dufay. "We do whatever we need to do to make sure students have an environment that's conducive to learning. We wanted to make sure they didn't see any damage to their school when they returned from spring break."
If just so happened that the crews had experience in repairing fire damage in a hurry. A month earlier, another fire – started by construction equipment – damaged the cafeteria at Chaparral Elementary School. M&O had that cafeteria ready for business when the students returned from a long weekend.
The damage at these schools, especially Zia, was extensive. At Zia, the roof and north wall had to be torn down and rebuilt; insulation lighting and wiring replaced; duct work, walls, floors, appliances and everything else cleaned and disinfected.
At Zia as many as 37 people were on site at one time. They worked double shifts, from 6 a.m. to 11 p.m., through Easter Sunday. At Chaparral, 45 people worked 24 hours a day over a long weekend to get the repairs done before students returned to school.
M&O employees who worked on these schools include carpenters, electricians, HVAC workers, plumbers, painters, masons, building services crews and food services. A couple of contractors also helped.