Physics Students Get Their Teacher to the Church on Time
The goal of the 10th annual Eldorado High School Rube Goldberg competition was to create a contraption that would get a Mr. Frye replica as close as possible to his bride-to-be.
The task was simple enough: Get physics teacher Joe Frye to the church on time for his wedding. The path, of course, was much more complicated. It was a Rube Goldberg contest, after all.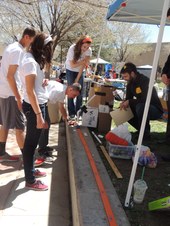 Eldorado High School physics students participated in the 10th annual competition in which they had to create a contraption with the goal of getting a replica of their teacher as close as possible to his bride-to-be. Each team's machine had to include at least 10 steps in the spirit of Rube Goldberg, a cartoonist and inventor known for his drawings that took simple tasks and made them extraordinarily complicated.
Frye, in his first year of teaching physics at Eldorado, said the theme of this year's contest started as a joke but quickly became reality. He did make sure to get the approval of his fiancée Nora who felt it was a bit embarrassing but also kind of funny.
"I think having the task be something personal brought about a different level of creativity from the students," said Frye. "This wasn't just about hammering a nail. It was something they could really play with."
Many teams included personal aspects from their physics teacher in their design. One team used their wedding colors and one team borrowed a theme from his favorite television show, Game of Thrones.
Mallory McNeill of Frye's Fantastic Fabulous Fysics Five said her team arrived at 4 a.m. to get ready to work on their machine.  "Some teams actually camped out in the parking lot because they were so excited for the event to start," she said. The Fysics Five drew beards on themselves and wore Eldorado sweatshirts in honor of Frye's normal work attire.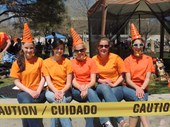 The 40 teams were allowed to bring their materials into the EHS courtyard and start assembling their creations in the early hours of Monday. In addition to taking a simple task through a minimum of 10 steps, the teams had to incorporate at least four of the six simple machines: a lever, pulley, incline plane, wedge, screws, and wheel and axle. Each team was given a small plastic figure representing Frye and his fiancée.
The planning process began a month ago. Sara Stempeck, a junior from the Pac-Man team, said her group met a few times to sketch out their ideas, but none of the actual building took place until the day of the event.  "It may be more stressful not being sure if your idea will work, but it is definitely more fun!" Her team used a pegboard with ramps, pulleys and an incline plane to move their Mr. Frye replica from start to finish.
Second graders from nearby S.Y Jackson were there to cheer the students on as were students from Hoover Middle School. Trains chugging along tracks, falling axes, and mounds of dropping marbles delighted and impressed the future Rube Goldberg competitors.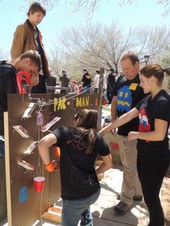 Judges included community leaders, parents, and AP physics students. Teams had 10 minutes to demonstrate their machine for the judges. The girls from the Cozy Cones team were disappointed that parts of their machine failed during the judging, but overall they were just excited to have participated.
"We kept trying to get it to go through all the steps, but one of our elements gave us some trouble," said EHS junior Maria Gugliotti.
Frye said teachers hope to have all the results tallied before spring break. There will be several special recognition awards given for best costumes, crowd favorite and best performance as well as the overall winning team. The students will also receive a grade from the judging rubric, but most of them were more interested in the process.
Eldorado's annual Rube Goldberg event is where real application of knowledge shines through.