Painted Sky, Reginald Chavez Elementaries Recognized as 'Exemplary'
School officials traveled to Santa Fe to receive award at the Legislature.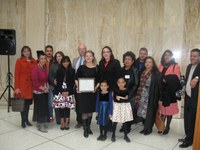 Students and staff at Painted Sky Elementary
Students and staff from Painted Sky and Reginald Chavez elementary schools traveled to Santa Fe earlier this month to receive Title III Program Awards from the New Mexico Public Education Department. The schools were recognized for serving the needs of English Language Learners.
Both schools earned honors at the 'Exemplary' level, the highest of three levels of recognition. Seventeen schools around the state received the award, 10 of them in the top category.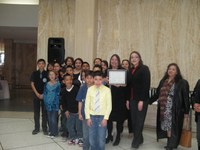 Students and staff at Reginald Chavez Elementary
Students and staff picked up their awards in-person at the State Capitol during the legislative session.
To earn the exemplary level award, a school must
Meet "Making Progress in English"
Meet "Attaining Proficiency in English"
Meet School Growth Targets in Reading and Math
Present evidence of student progress and high achievement
Present evidence of effective and innovative programs for English Language Learners (ELLs) and parent engagement activities/programs.