Our Kids Make Other Kids' Wishes Come True
Albuquerque Public Schools students have raised more than $14,000 so far this school year for Make-A-Wish New Mexico.

Students in APS schools are coming up with creative ways to help make wishes come true for children with life threatening medical conditions. They're selling friendship bracelets, luminarias, paper stars, candygrams and wristbands, sponsoring fun runs and dedicating rival basketball games to Make-A-Wish New Mexico, which expects to grant 125 wishes this year to children ages 2 to 18 across the state.
Interested in the Kids for Wish Kids program?
Visit
Make-A-Wish New Mexico,
call 555-888-WISH (9474) or email magic@wishnm.org.
Sixteen APS schools, including almost all of our high schools, have participated this school year in the Kids for Wish Kids program that empowers students in kindergarten through 12th grade to make a difference in the lives of others kids.
"It's so heroic of these kids to think past themselves and help someone in need," said Allison Hendricks Smith, vice president of operations for Make-A-Wish Foundation of New Mexico.
Some APS schools, like 7-Bar Elementary, are longtime Make-A-Wish donors. Under the guidance of PE teacher Bruce Atencio, the school has raised more than $6,000 so far this school year and nearly $20,000 in four years. The students have incentives for meeting fundraising goals. For example, 7-Bar has slimed its principal, Nancy Lacher; Ms. Lacher and Mr. Atencio have exchanged jobs (and clothes) for the day; and they've duct taped the principal to the school building.
A popular fundraiser this school year has taken place at high school basketball games, where fans compete with rival schools to see who can raise the most money for Make-A-Wish. More than $4,500 was raised at one of these games between Volcano Vista and Cibola. Other participating schools include Albuquerque High, Highland, Eldorado, West Mesa, Manzano, Sandia, Del Norte, La Cueva and Valley.
Several elementary schools including Monte Vista, Petroglyph and North Star, also have participated in Kids for Wish Kids this school year.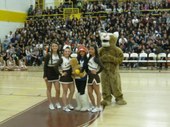 The money goes to grant wishes for children with life threatening illnesses. The most popular wishes are travel wishes; the most popular destination is Disneyland. Other popular wishes include room makeovers, shopping sprees, meeting celebrities and the opportunity to be someone else for a day. The average cost of a wish is $5,000.
A new trend in wishes is legacy giving. Rio Grande High was recently the recipient of one such gift from a baseball player named Martin who presented a $5,000 check to be split between the Ravens baseball team and his Little League team for uniforms and equipment.
APS schools have helped grant wishes for their own students as well as for others in the community.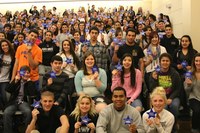 Schools interested in taking part in the Kids for Wish Kids program can get more information by visiting the Make-A-Wish New Mexico website, calling 555-888-WISH (9474) or emailing magic@wishnm.org.