Neverland Café at Madison is Teacher's Legacy
Linda Hansen has been hosting the biannual breakfast for students, staff and families for 16 years.
On the first day of May, 20 middle school students hurried into the Family and Consumer Science room at Madison Middle School where teacher Linda Hansen greeted them with instructions: "Good morning kids! Sign in, wash your hands and Clorox your area."
The students were preparing for the Neverland Café, a semi-annual breakfast for students and staff that dates back 16 years to when Hansen first started teaching culinary arts at Madison.
To describe what Hansen does in preparation for this day as "managing" would be an understatement.
As the students trickled in to participate in their big semester project, Hansen recalled all of the preparation the event requires. Students create tree maps of their responsibilities before, during, and after the café. She also had to apply for a temporary food permit from the City of Albuquerque Environmental Health Office.
"Sanitation is one of the hardest concepts for kids to get at this age," said Hansen as she patted eighth grader Andrew Rihani on the back and whispered with a quick wink, "Keep your hands out of your pockets."
"I am here to open the door for customers and keep the area secure. If anyone gets out of hand I may have to escort them to the principal," Rihani said.
Six small kitchens were utilized to facilitate the Peter Pan theme of the menu. After washing up and dressing in chef's hats and aprons, students checked instructions at their individual stations and began preparing various breakfast foods.
Seventh-grader Abby Opperman began flipping Peter Pancakes in her station. When she became impatient and started to turn them too early she caught Hansen's attention, who reminded her to be patient and watch the clock, giving the pancakes a full two minutes on each side.
Hansen had six adult volunteers assisting with the café including her student teacher Jessie Olson.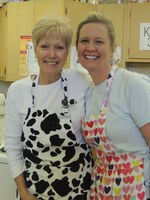 A few days before the café, Hansen had informed her students that this would be her last year teaching. Olson is hoping to take on the tradition that Hansen began.
"The buzzword in teaching is project-based learning. Mrs. Hansen has taught so many academic concepts with this project. The students utilized math skills when converting recipes and practiced literacy skills when creating their resumes for applying for café jobs," said Olson.
Eighth grader David Johnson said applying for the job was fun. "I was the first one to turn my resume in. If you were good enough, you got your first pick." Donning his Peter Pan hat and kitchen gloves, he began boxing up food for the many classes that placed orders.
In addition to family and friends who were invited to stop by the Neverland Café, eight classes rotated through during the first three periods. As the first students filed in waitresses greeted them at their tables.
"Some things only become relevant in this atmosphere, you can teach a lot ahead of time but there will be things that only come up in simulation," said Hansen as she hustled between the kitchen and dining room.
Her husband who has become a volunteer over the years was on hand for her final café. "She has done a lot of good here. She has students come back to visit and tell her how much her class meant to them. She has even had students place nationally in culinary arts competitions, but I am anxious to have her home," said Mr. Hansen.
Hansen keeps a box of menus created by her students over the years. The menus are like snapshots of pop culture since she began hosting the café: Pirates of the Caribbean, the 80s, Dr. Seuss, NFL, and even a Breast Cancer menu were among the pile. She has kept a menu from every café her students have held.
These menus are just a small souvenir from her commitment to this impactful program at Madison and the mark she is leaving behind.