Posted:
December 16, 2014
News
La Cueva Seniors Win $100,000 Scholarship
Two students win 2014 Siemens Competition National Finals team category
Eli Echt-Wilson, left, and Albert Zuo, right.
When Eli Echt-Wilson's older sister and faithful New Mexico Supercomputing Challenge partner left for college, he had to craft a new plan or find a new teammate for the state competition. About this same time, Albert Zuo's interest in computer science piqued, and he approached his friend to learn more about the competition.
A year later, Echt-Wilson and Zuo are $100,000 richer.
This unlikely pair in the New Mexico Supercomputer Challenge, resulted in the La Cueva students winning the grand prize in the 2014 Siemens Competition National Finals team category for research on computational models for tree growth.
"I was trying to think of projects to do, and tree growth interested in me from a computational perspective," said Echt-Wilson. "As the project progressed, and when Albert joined, it just kind of evolved. I would never have imagined that we could create a biologically-accurate tree growth model."
But that's what they did.
The duo—currently tied for La Cueva class Valedictorian, National Merit Semi-Finalists and best friends—created a biologically-accurate computer model that forecasts tree growth.
"When you are looking at planting trees, it's likely that you won't determine what the outcome looks like until thirty years after you've planted your trees; our model can do that in thirty seconds," said Zuo.
After four solid months of commandeering Echt-Wilson's parents' dining room table, the boys are very proud of their project, and admit they could never have dreamed where a computer-model for tree growth could take them.
Both boys are looking at Stanford, Harvard and Princeton as their top choices for colleges.  But they've been approached by research professors at other universities who would like to keep them together and help them continue their research.
Their immediate plans? Get accepted to college. Then find out what happened to that check.
"They took the giant check away right after the ceremony, so we don't actually know what happens next, but I guess we'll find out," said Echt-Wilson.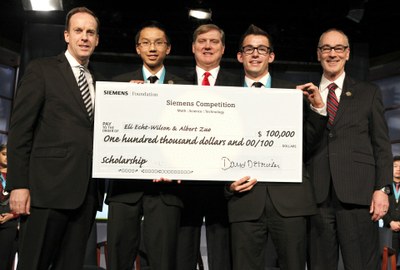 The Siemens Competition is a signature program of the Siemens Foundation, a leading supporter of science, technology, engineering and mathematics (STEM) education in the United States. The Competition is administered by Discovery Education. The 15th annual awards were presented this morning at The George Washington University, host of the 2014 Siemens Competition National Finals.