Knight Rescue
A historic piece of Del Norte High School comes home thanks to generous '66ers.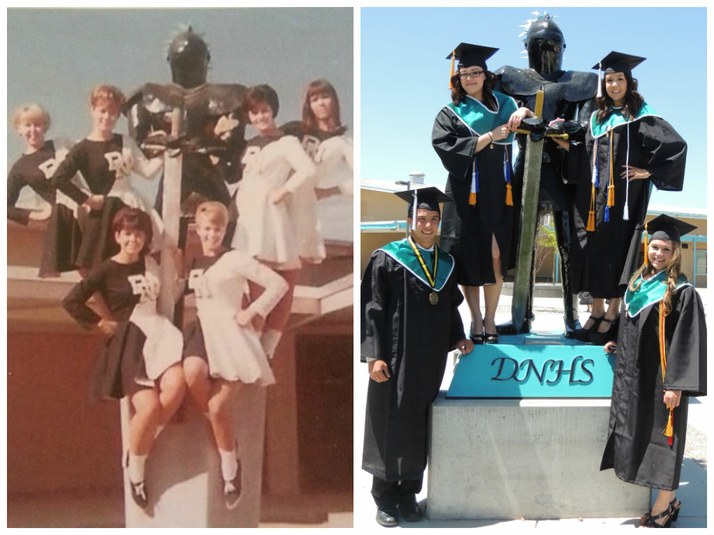 In high school few things are more important than school pride. In a city with 13 comprehensive high schools, state championships and first-place competitions are bragging rights. Students wear letter jackets and school colors with great pride and nothing on campus is more sacred than the school mascot.

So when Janet Saiers and Ron Kaehr, members of the class of 1966, returned to the Del Norte High School prior to the demolition of the old building, they were very concerned about the condition of the Knight in the courtyard.
The Del Norte Knight will be officially dedicated during "A Knight to Remember" from 5-9 p.m. Friday, June 27. The event will include
alumni tours
music
food
memorabilia
silent auction
For more information, call Janet Saiers at 299-5019.
Originally a gift from their graduating class -- the first from Del Norte -- the Knight was showing signs of corrosion. Kaehr, who owns Kaehr Coating, a local metal refinishing company, agreed to clean it up for the celebration the summer of 2012.

When Kaehr and classmate George Provolt inspected the Knight closer, they found structural damage and agreed it must be moved for repairs. "The demolition fence was very close to the Knight and we were concerned that it would get included in the demolition," said Sairs. "Ron and George decided to take the Knight and rescue him from demise."

Freeing the statue -- which is filled with concrete -- from its base was no small feat. The men chiseled away for about a week and then worked with construction people onsite to load the 750-pound Knight into a truck for delivery to Kaehr's business.

Renovation required sandblasting it down to the metal base, constructing a new platform and finding him a home on the new campus. All together Kaehr dedicated 120 hours to refinishing, and in some instances, rebuilding the Knight. Not only did Kaehr donate time and materials to save this piece of Del Norte history, he chronicled his work and incorporated his experiences as a teenager in 1966 in a unique story that has posted online.

The only remainders of the 1966 Castle are the original gym and, for a little longer the cafeteria.

"The Knight is a symbol of a time period and a place that no longer exists. It reminds me of classmates, some of whom I'd known since second grade," said Saiers.

This nostalgia is not lost on the graduating class of 2014. Current graduates Melanie Pino, Christopher O'Mary, Madelyn Martinez, and Danielle Ripley met at the Knight for a final picture the day before their graduation.

When they first moved into the new building there was nothing that really identified it as Del Norte, it was a hard transition leaving the old building behind. It was like they had no identity as Knights.

"It was as if everyone forgot we were at Del Norte and we were the Knights. But when we finally got the Knight back, everyone seemed to remember and you would see people taking pictures with it and hanging around it. The Knight is a reminder of who we are and why we are here," said Melanie.

Another 50 years from now, rest assured that alumni pride and loyalty will, if needed, rescue the Knight.