IB Students Mentor Mid Schoolers in Science
Students in the International Baccalaureate Diploma Program at Sandia conduct experiments with younger kids.
You can learn the periodic table through memorization and regurgitation. Or you can understand it by watching the chemical reaction when elements are submersed in water or ignited on fire. 
That is exactly what students from three APS middle schools are able to do through science visits with the International Baccalaureate students at Sandia High School.
"We are trying to get kids excited about science," Kinzey Thomas, senior IB student, said. "You can light things on fire and make things glow, but also have the understanding on why it does that and make predictions -- that's pretty much what science is all about."
Students from Cleveland, Grant and Madison mid-schools are gaining hands-on science experience learning about chemiluminescent reactions, metal densities and sunspots with guidance from older students in the IB program.
"We are opening up to the middle schools and allowing our knowledge to permeate the community," Thomas said.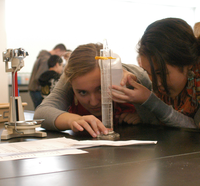 Three times a year, each of Sandia's feeder middle schools will visit and apply their knowledge of science, technology, engineering and math to interactive experiments, while receiving mentoring from Sandia's IB students. The hope is for the students to become interested in the sciences and apply their excitement in their traditional classrooms, according to Hernesto Tellez, IB chemistry teacher who sponsors the visits.
"I have a lot of resources here (at Sandia), and I want to share them," Tellez said. "What better way than to share them with my future students?"
The visits, as well as field and laboratory studies for the IB students, are funded through a variety of grants including support from the APS Education Foundation and French Funerals and Cremations.
Tellez said he hopes to expand the project to middle schools across the district.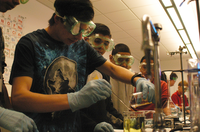 Not only do the middle schoolers get hands-on experience in field and laboratory studies, the IB students gain experience in peer-to-peer tutoring and educational outreach.
"I would have taken class more seriously, not just as a grade, if I had these experiments," Annalise Chacon, junior IB student, said. "I would have been excited to do these labs and see the results, not just the teacher's examples."
The visits also count toward the IB student's community service efforts. In addition to the six academic areas of study, IB diploma candidates must fulfill a minimum of 150 hours in sports, academic pursuits or community service for their Creativity, Action, Service requirement to teach them to balance academic and social life.