Four Students Win $3,000 Cash Prize for Perfect Attendance
High School Students get Cash from Albuquerque New Car & Truck Dealers Association
(L-R) Students Palma Tavenner, Dominic Sharp, Brandon Battelle and Aaron Harlow with Charles Henson (Center).
[Albuquerque, NM]— This morning four Albuquerque-area students—one from each high school grade level—were awarded a $3,000 cash prize from the Albuquerque New Car & Truck Dealers Association for earning perfect attendance during the 2013-14 school year.
This was the first year that ninth grade students with perfect attendance had the chance to win a cash prize. Previously the Albuquerque New Car & Truck Dealers Association awarded a car to a single student from grades 10-12, who had perfect attendance.
Winning the $3,000 cash prize were: Dominic Sharp, who was a freshman at West Mesa High last year; Aaron Harlow, who was a sophomore at Cibola High; Brandon Battelle, who was a junior at The ASK Academy in Rio Rancho; and Palma Tavenner, who was a senior at Rio Rancho's Cleveland High.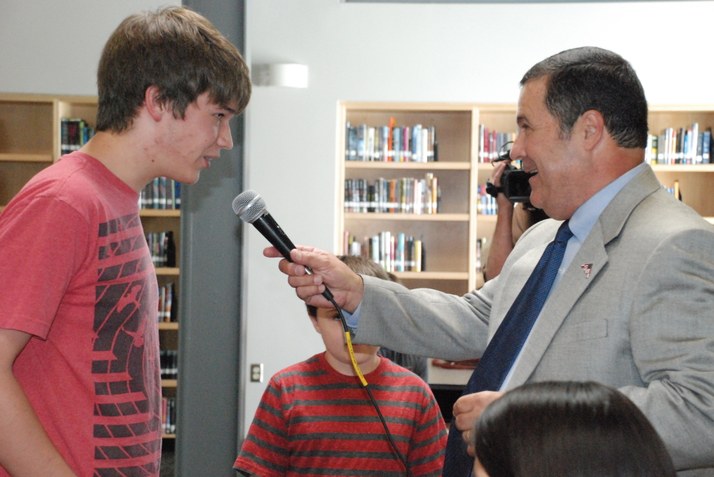 "We wanted to be able to honor more students and include ninth graders," said Charles Henson, who coordinated the drawing for the Albuquerque New Car & Truck Dealers Association. In prior years, 9th grade students were not included because car winners had to be licensed drivers.
"It is quite an accomplishment that all these students had perfect attendance and earned the chance to win the cash," Henson added, noting that students were asked their grade point average when they responded to the invitation and the average for the students was a 3.5. "They and their families should be very proud."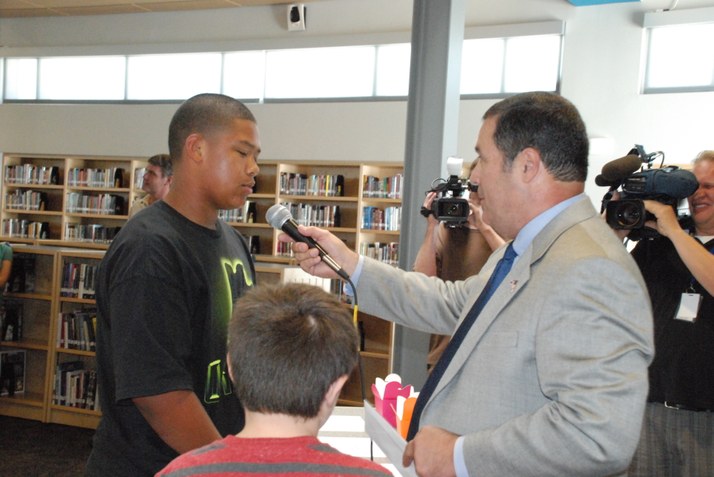 Most of the student winners said they would use the cash to help defer college expenses. "I will put in my college fund," said Sharp of West Mesa. "I want to go to school in Oregon," he added.
Ninety-two students in grades 9 through 12 from APS, another 11 from Rio Rancho and three from the ASK Academy Charter School qualified for the drawing by achieving perfect attendance during the 2014-15 school year. Thirteen APS students had achieved perfect attendance in a prior year in addition to this year and so they had more than one chance to win the cash.
APS Superintendent Winston Brooks was on-hand to congratulate the students and their families. "I know it's hard, especially for some high school students to attend class every day. These students and their families are to be congratulated," Brooks said.
Just like they had to do every day at school, students had to be present for the drawing in order to win the cash prize.