First CCHS Graduates Earn a Combined 193 College Credits
The nine graduates of the new school picked up their diplomas at CNM's commencement on May 3.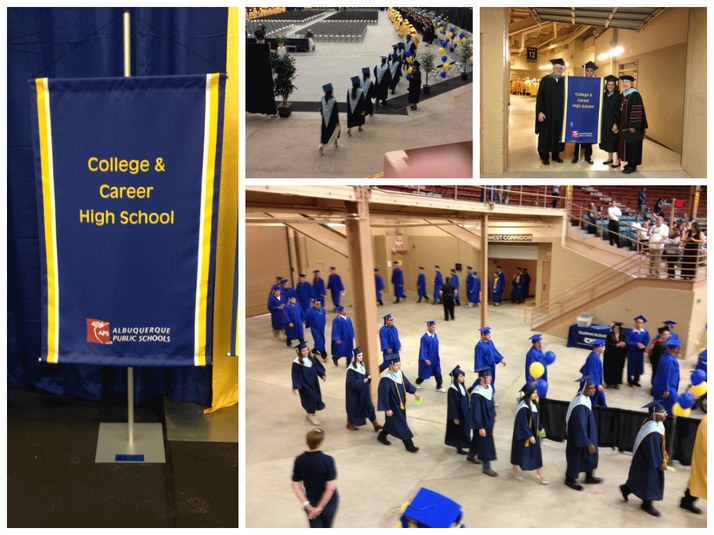 The first graduating class of APS College & Career High School received diplomas during CNM's commencement on Saturday, May 3. But these students didn't just pick up a high school diploma; combined they earned nearly 200 college credits and a jump start on their post-secondary education and careers.
CCHS, which opened its doors on the campus of the CNM campus last fall, graduated nine students who all earned college credits as they completed their senior year in high school. Hunter Farvour earned the most credits with 39, the equivalent of more than a full year in college. Classmate Nikki French earned 35 credits and Nayeli Carranza earned 27. The rest of the students earned between 12 and 19 credits.
"All of these college credits are pretty amazing, and you got it all for free," APS Superintendent Winston Brooks said to the students during their senior dinner. "You got a jump start on what college is all about. That's a really cool deal."
And the learning won't stop for these students. Thanks to New Mexico Educators Federal Credit Union, they each received a "gap" scholarship that will allow them to keep earning credits during summer school before they are eligible for the Bridge scholarship in the fall.
The 2014 CCHS graduates are: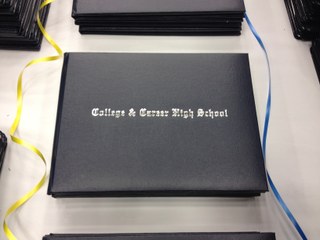 Nayeli Carranza
Mychalah Cordova
Breanna Duncan
Hunter Farvour
Nikki French
Ryan O'Brien
Brianna Prien
Arris Walker
Ceznary Walker
Representatives of APS, CNM and the business community sang the praises of the new school as it wrapped up its first year. Because it's located on the CNM campus, CCHS students take high school and college-level classes at the same time with a goal of getting their high school diploma while earning a college certificate, two-year degree or credits towards a bachelor's degree. College & Career High School is open to sophomores, juniors and seniors from across the Albuquerque community.
"Students who take college level courses while still in high school are more likely to graduate college and do great things," said CNM President Katharine Winograd during the senior reception. "We hope you will be our bosses someday."
The school's unique Business Council also was praised for providing support and guidance for CCHS students, often meeting with students during the school year. Members of the CCHS Business Council are:
Sally Adams, Betty's Bath and Day Spa
Adrian Chavez, Pepsi Co.
Dale Dekker, Dekker/Perich/Sabatini
Brian Fairhurst, Target Stores
Terry Laudick, New Mexico Educators Federal Credit Union
Natasha Martell, Intel Corporation
Sherman McCorkle, Sandia Science & Technology Development Corporation
Joanne Suffis, Presbyterian Healthcare
Mary Ann Ulik, Trane