Posted:
September 9, 2014
News
Computer Packaging Transformed into 7-Bar Sculpture
Fourth and fifth graders took the foam forms out of trash and turned them into art.
When Seven Bar Elementary Principal Nancy Lacher, took Itinerant art teachers Gina Medina and Tawana Lansa to see the classrooms that they would be teaching in this school year, they found the room filled with hundreds of computer packaging material. 
Rather than throwing the foam forms out to the trash bins, the art teachers asked if they could use them in a lesson to create an outdoor sculpture, at the same time reinforce sensitivity to environmental issues. 
The principal was excited about the idea, as were all of the fourth and fifth grade classes that participated in the sculpture installation.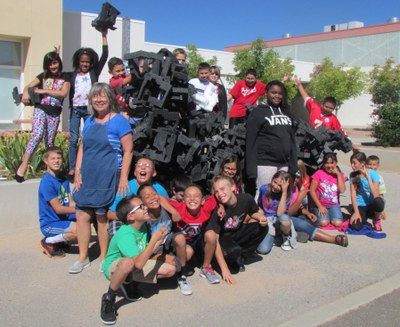 The artistic concepts discussed and explored were: 
base
balance
texture
armature
collaboration
installation. 
The art teachers also added a Hallway Museum featuring visuals of famous contemporary and ancient sculptures. Sculpture facts and questions were an important part of the Hallway Museum, as it was intended as an extension to the lesson, as well as providing an artistic educational opportunity for staff and parents.