Posted:
December 19, 2013
News
Comanche ES Class Participates in National Hour of Code
Jenifer Linville's third-grade class participated in the national Hour of Code project, geared at introducing young learners to programming logic.
Jenifer Linville's third-grade class at Comanche Elementary School was one of hundreds of classes around the nation to participate in the "Hour of Code" project during the recent Computer Science Education Week (Dec. 9-15).
The Hour of Code project hopes to have involved more than 10 million people around the world, with the hope of introducing young students to the joys and possibilities of computer science and coding.
Learn more about the the Hour of Code.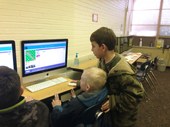 "I really enjoyed watching my students do this activity," said Linville. "Even though this is an exercise to help build a skill, my students didn't see it that way. To them it was a fun familiar game. But as a teacher I saw it as a great logical exercise!"
Linville's class tried the Angry Birds Challenge which helps introduce learners to programming logic.
Linville said that she was pleasantly surprised that so many kids interested in learning to code, and she was floored when some students got through the levels so effortlessly. The students that excelled helped others and it was a huge success, some students mentioned they were excited to go home to try more!