News
Bus Drivers Get Training, Recognition
More than 400 bus drivers attend back-to-school conference
More than 400 bus drivers and transportation aides attended a conference on Wednesday, July 30, hosted by the APS Student Transportation Services to provide training and also recognition for their critical role in educating students.
"With great thought and care you alone take on the awesome responsibility of transporting our most precious cargo to and from school," Monica Armenta, APS Executive Director of Communications, told the drivers during a morning session on media training and crisis prevention.
"Like so many other people in public education, you see first-hand things others might miss. You know if a child is happy, sad, picked on or scared. You're on the front lines and ready to help, most of the time without being asked," she said.
Armenta's presentation provided bus drivers with tips on how to avoid ending up on the 10 o'clock news. She encouraged the drivers to let Transportation Services and schools know if their bus is going  to be late,they have concerns about the safety of a bus stop,they're dealing with behavior problems that could impact student safety or a student is dropped off at the wrong stop.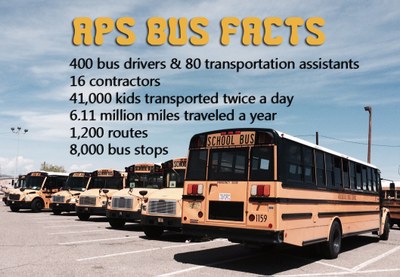 "Our first priority in this school district, along with educating our kids, is making sure our students are safe, and you play a key role in that mission," she said.
Other training sessions for the bus drivers were on topics such as
behavior intervention
bullying
driver distractions
emergency procedures and evacuations
The drivers also were treated to breakfast and lunch provided by APS Catering.