APS Works to Reduce Chronic School Absence, Truancy
September is National Attendance Awareness Month.
Attendance Works has identified key elements of a comprehensive approach to reducing chronic absence. The Truancy Initiative in Albuquerque Public Schools is doing work in each of the elements to positively impact truancy in 17 pilot schools this school year. What is learned from the pilot project will be taken district-wide. Some of these practices are already in place in others schools in APS, as well. Schools that practice elements over the course of an entire academic year can expect to see measurable improvements in truancy and attendance.
School Level
Monitor Attendance Data and Practice
Schools that are most effective in addressing truancy have teachers who are diligent about tracking which students are absent each day and reporting this information in a timely way to the school's attendance clerk. This information is then loaded in to the district's Student Information Systems so that accurate reports can be generated and unwarranted or inaccurate automated calls to families can be prevented.
Engage Students and Parents
Last August the APS Board of Education passed a new family engagement policy.  A draft of the procedural directives for the policy has been shared with the larger Albuquerque Community for input. Once adopted, the directives will detail what schools can do to foster safe and welcoming environments, expand communication to families and communities, build relationships and capacity among school, family and community members, and create equitable and effective systems.
Family engagement specialists from the Student, Family and Community Supports Division are currently conducting "walk throughs" at schools to assess safe and welcoming Environments and offering technical assistance to schools that need it. Some schools have family centers and family liaisons who help engage students and families to support student learning and regular daily attendance, as well.  

Recognize Good and Improved Attendance
The 17 truancy pilot schools are being offered an array of options to recognized students and families who have made improvements in their attendance after the initial phone interventions. These include phone calls from the principals, the superintendent and community celebrities, written acknowledgements and recognition at school or community events. A collaborative of car dealers organizes a drawing for a free car every year for senior students with perfect attendance.

Provide Personalized Early Outreach
This year the Truancy Unit of the Student, Family and Community Supports Division is partnering with volunteers and school staff to make personal phone calls to the families of students in a cohort group who have two unexcused absences at 17 pilot schools. Personalized calls will be made again for students with five unexcused absences. Ideas for personalized automated messages in School Messenger are also being shared with the pilot schools.  

Develop Programmatic Response to Barriers
The truancy pilot is developing a new screening tool to identify the causes of truancy from the perspectives of parents/guardians and students.
If the barriers are part of school or district practices they will be addressed.
If barriers are identified that exist in the family or community, families will be referred to Health and Wellness teams at their school and to community providers for assistance.
If there is a lack of community resources to meet identified needs, these resources will be advocated for by both community members and school representatives working together.
District and Community Level
For the work to be sustained and taken to scale, districts and communities support the work with these essential elements.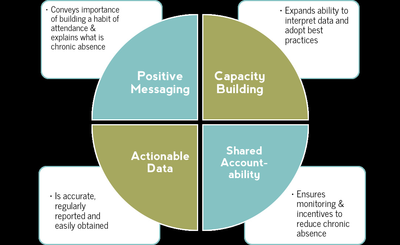 Positive Messaging
Participating in this national initiative to shine a light on the importance of regular daily attendance is only one of many ways APS is getting the word out. The superintendent is also working on an article for Albuquerque Journal. SchoolMessenger has tremendous capacity to generate district-wide positive messages, as well.  

Capacity Building
The APS Student Information Systems Department offers trainings to staff in SchoolMessenger and SchoolMax. Trainings on the procedures and the new screening tool for truancy prevention pilots are being offered to counselors, social workers, nurses, family liaisons, volunteers, and UNM work study students who are working with the pilot schools. Many nonprofit and grassroots organizations in Albuquerque work with family members and students to bring their voice to bear on school reform.  

Actionable Data
The truancy pilot will identify the root causes of truancy among a cohort of students in the 17 pilot schools. This data will be used to advocate for changes in the schools, the district, and in the communities that will remove barriers to consistent attendance. SchoolMessenger and SchoolMax generate helpful reports that can be used at both the district and school levels, as well.
Shared Accountability
Last school year there were over 16,000 chronically truant students in APS. This problem is clearly too big for the school district to address alone. We need the help of families, volunteers, businesses, and each of us working together to make a positive change.