APS Teacher Heading to Summer Olympics
Highland PE teacher ends up joining U.S. Olympic handball team after looking for ways to teach her students the sport.
Deanna McGillivray was preparing to teach handball to her PE classes at Highland High when she ran across a video about USA Team Handball – "the fastest growing sport in America."
The former national rugby player and Crossfit trainer thought the sport might be a good fit for her, so she contacted the head coach and flew to Alabama for tryouts even though her only handball experience had been teaching it in PE.
She made the team.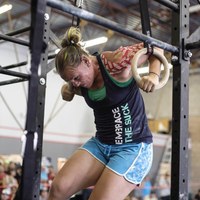 McGillivray will join a residency program this summer after she wraps up the school year and will represent Team USA in Rio de Janeiro in the summer of 2016.
She attributes her success in handball to her aggressiveness. "The aggressiveness I demonstrated transferred over from rugby and comes natural to me. It is not easily learned by others," she said, adding that she was a member of the national rugby team for six years and the Olympic rugby team for one year.
McGillivray said balancing teaching and training hasn't been a problem for her. "I do CrossFit for my fitness after school, teach during the day and train at night," she said.
Though her focus will soon be solely on handball, McGillivray said she is looking forward to someday returning to Highland to teach and to continue sponsoring the club she created, the Hardcore Parkour Hornets dedicated to providing physical outlet for students at risk through tumbling and gymnastics.
"I love the kids there," McGillivray said.