A. Montoya Community Getting the Most from Classroom Addition
Capital funds paved the way for state-of-the-art upgrades.
What goes on inside the recently-completed kindergarten and pre-school addition at A. Montoya Elementary extends beyond reading and math. Students also learn through cooking, citizenship and environmental awareness. 
"The building allows for our kindergarten and pre-school programs to have a spacious learning environment that includes a kitchen for cooking (as part of) the curriculum," Principal Cee Kaye Nation said. "Students are able to build a foundation of reading and mathematical skills while mastering how to be positive, productive citizens."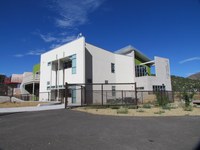 The $2.8 million facility included a state-of-the-art computer lab and gave the school its first major upgrade since it opened in 1991. The building's location also bridged a geographic gap between A. Montoya and Roosevelt Middle School, which have been combined into a single kindergarten through eighth grade school on the same campus. It is expected to operate under a single name next year. 
Projects like new classroom buildings are made possible by taxpayer-approved bonds and mil levies. Voters are being asked to consider a $368 million bond and mil levy package in the Feb. 5 APS capital improvements election. 
As a stand-alone building, Albuquerque Public Schools built the new facility to meet LEED (Leadership in Engineering and Environmental Design) Silver standards, with more windows to let in daylight and other energy-saving features. It serves as a real-world example that teachers can use to teach students about protecting the environment. Eighty-six percent of construction materials were recycled in construction of the 64,000-square-foot facility. 
"We are truly blessed to have such an interactive educational space," Nation said. "Thank you, voters, for believing in our future leaders."