255 APS Students Receive Diplomas as a Result of Summer Courses
Students participated in commencement exercises Tuesday night at the Kiva Auditorium
Some 255 Albuquerque Public Schools seniors got the opportunity to walk across the stage and receive their high school diplomas last night at the Kiva Auditorium as a result of completing summer school courses this year.
Students from Albuquerque High, Atrisco Heritage Academy, Cibola, Del Norte eCADEMY, Eldorado, Freedom, Highland, Manzano, New Futures, Rio Grande, Sandia, Valley, Volcano Vista and West Mesa, as well as local charter schools—Digital Arts Talent Academy, Los Puentes and Robert Kenndy who attended high school summer classes at the APS Career Enrichment Center, eCADEMY, La Cueva High, Rio Grande High or Kennedy Middle School, received diplomas from their respective high schools.
APS Chief Academic Officer Shelly Green welcomed the students and their families to the ceremonies. "I congratulate these students for persevering in their desire to graduate from high school," Green said.
Students Cody Lambert of Atrisco Heritage Academy and Wendy Sanchez of Valley High gave the commencement addresses for the summer school graduates.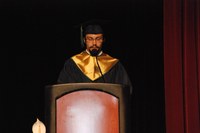 Lambert told of how he overcame both stage fright and doubts about what he could accomplish with the encouragement of his teachers and participating in a local poetry slam. "I was scared to get up on stage to read my poetry for the first time, but if it hadn't been for that competition, I would not be here today," Lambert said.
Sanchez said her mom had provided the encouragement she needed to be a member of the graduating class of 2014. "She always told me, 'Si se puede,' yes, you can and I was able to realize that I could," Sanchez said.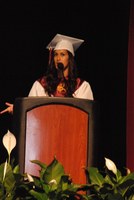 The number of summer school graduates has increased over the past five years. In 2009, 84 students completed their high school diploma in the summer and the number peaked last year when 280 students received their diplomas. The 2013 summer class was so large that three separate ceremonies were held to accommodate all the graduates.