Fleet Maintenance
Dale Krezan, Manager
(8 years with APS outside of M&O, manager 3 years) 15 Technicians and Support Personnel
Fleet Maintenance responsibilities include Vehicle Maintenance; Specialty Equipment Maintenance (small engine grounds equipment); Tire and Towing; Fuel Station; Lincoln Complex automated security gate access and fueling systems maintenance; point of contact for vehicle accident processing; and the APS Drivers' License and driving record monitoring programs.
Fleet Maintenance provides and maintains safe, reliable, and fuel-efficient vehicles used by District leadership staff and APS Police; service vans and trucks used by M&O and school sites; and refrigerated trucks used by Food Services to transport fresh food to District school cafeterias in support of students' health and nutrition. Its 700 plus inventory includes cars, trucks, and vans as well as commercial earth moving and other heavy equipment, backhoes, loaders, road graders, snow removal equipment, a wrecker/slider, and more. Fleet Maintenance also services grounds maintenance equipment consisting of over 3,000 pieces of machinery located at schools and other sites throughout the District. These include riding and push lawn mowers, trimmers, hedgers, blowers, chainsaws, and golf carts. APS' in-house fleet maintenance operation results in quick turnaround time and an immeasurable savings to the District.
Fleet Maintenance meets the requirement that all vehicles are in working order and road-safe for use by APS employees. Because M&O technicians depend on the reliability of their service vehicles to perform maintenance and repair of assets throughout the District, it is imperative that Fleet Maintenance staff observe a strict preventive maintenance schedule on these trucks and vans.
All mechanics have formal training in vehicle repair; hold a State of New Mexico Commercial Driver's License necessary to operate heavy equipment and vehicles; and Air Care Station certifications. Emissions tests and certifications are conducted on-site only for APS fleet. The mechanics are also skilled welders and fabricators. The highly qualified technicians work in a 26-bay state-of-the art facility. Off-site work is provided by the Tire Shop technicians who operate an APS wrecker and provide roadside repair service.
The Fuel Station technician monitors the fueling system that dispenses approximately 1,000 gallons of gasoline and 500 gallons of diesel fuel daily to APS as well as CNM vehicles (reimbursed to the District). The Fuel Station also provides propane gas for roofing equipment, Materials Management forklifts, and equipment used in the Heavy Equipment and Masonry Shops, as well as for CNM equipment. Fuel is provided at spot market pricing based on negotiated contract rates through the City of Albuquerque fuel contract. In support of a clean fleet, drivers can also power wash and vacuum their vehicles at the Station at any time during the duty day.
The Department's functions are aided by FleetVision "smart tracking" software utilized for vehicle maintenance monitoring that includes vehicle history; driver information; VIN and license plate numbers; maintenance records; PM due notification; and vehicle fueling history (quantity, date, and miles to the gallon). While FleetVision quite reliably tracks all matters relating to every vehicle, it is not work order capable; therefore, WOs are also entered into SchoolDude to manage the work order activity of every vehicle. A third software system, Dream Island, performs the security function of recording all APS and CNM vehicles entering and exiting Lincoln Complex during off-hours when access gates are locked. Dream Island also records fueling information which is then exported to the FleetVision database.
Lastly, traffic accidents do happen and as the Department does not do body work, it is responsible for securing vehicle body repair cost estimates from vendors, directing the repairs, and coordinating this activity with the APS Risk Management Division. The Department also manages the District Driver's License Program which requires running monthly drivers' license background checks on all approved APS drivers, as well as monitors their state drivers' license status with the New Mexico Motor Vehicle Department.
Highlights
Fuel Station major upgrades
The Fuel Station required essential upgrades to meet New Mexico Environment Department (Tank Division) standards. In bringing the Station up to code, it was shut down for six weeks while upgrades and modernizations were installed. The Fuel Station serves the entire District as well as CNM with its biggest daily customers being the drivers of M&O service trucks and vans that make up about a third of APS' entire fleet of vehicles.
Upgrades Included:
A new protection system consisting of containment tanks under each fuel dispenser.
A new OPW Fuel Management System located inside the Station facility that electronically monitors the fuel levels in tanks as well as the water mixed in with the fuel and sets an alarm off when a leak is detected in the piping. Previously fuel was manually monitored.
Replacement of piping from tanks to fuel pumps with new double walled piping to meet environmental standards and for monitoring purposes.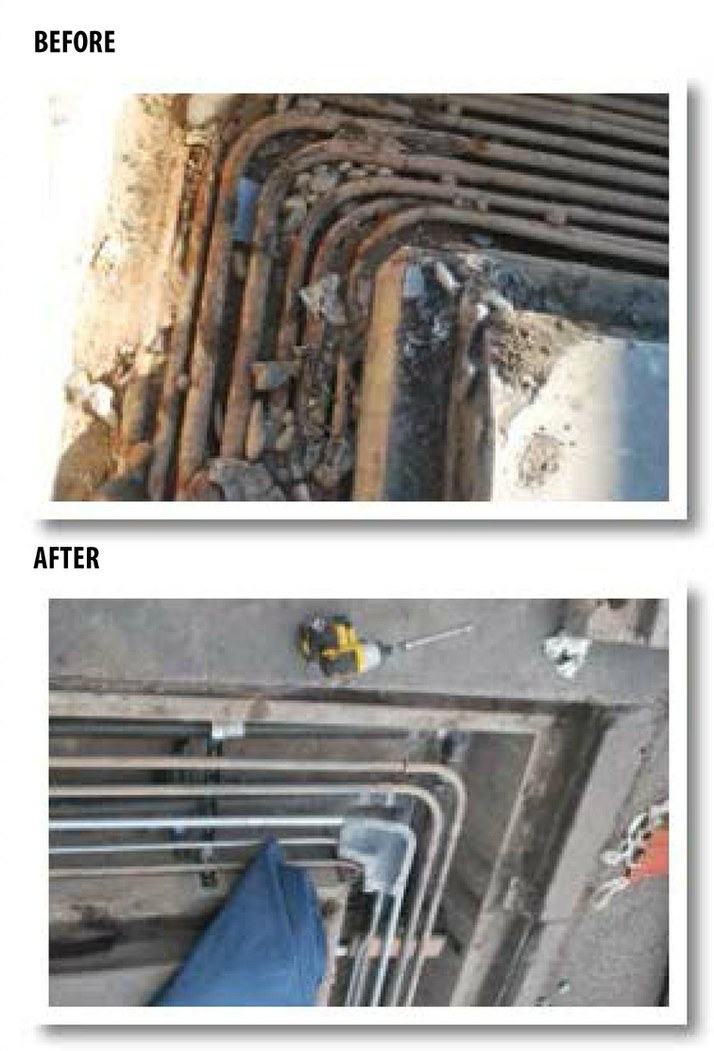 Fuel steel piping was replaced with double wall fiberglass piping that detects leaks which then triggers alarms alerting of the leak.
Replacement of a section of electrical wiring in a trench running from inside the station to the tanks and pumps as well as replacement of a rusted conduit that created a potential electrical hazard. The M&O Environmental Management Department Manager assisted with identifying the issues and overseeing the repairs in meeting the state's environmental protection code.
Department wide effort
Although the major job was contracted out, M&O departments provided immeasurable cost saving materials, time, and skill in assisting the contractor throughout the massive upgrade. In addition to the M&O Environmental Management Department Manager providing consulting expertise, other departments provided timely and extremely responsive assistance during the project. Services were provided by M&O electricians, the Welding and Heavy Equipment Shops, and the Mason Shop. The Fleet Maintenance Department is appreciative of the instrumental aid and credits the other M&O Departments for the near flawlessly executed undertaking carried out during the coldest time of the year (January – February). Their diligent efforts saved the District thousands of dollars by clearing hurdles that would have slowed contractor work delaying the completion.
Fuel Station moved to temporary site
The daily fueling of vehicles carried on as usual, just not at its usual site. The Fleet Maintenance Department considered several area stations and even the City of Albuquerque's fueling service in selecting the Broadway Express station conveniently located at Broadway and Cesar Chavez Avenue. Broadway Express was not only the lowest bidder, but also equipped with a commercial truck island capable of fueling many of M&O's large service vehicles and equipment. The location, a mere mile away from Lincoln Complex, minimized driving downtime to refuel. Broadway Express proved capable of accommodating essentially an added twin operation from their station. Their Mini-Mart also conveniently provided an opportune place to fuel up on snacks and coffee too.
Fleet Maintenance Department employees worked from this temporary location utilizing M&O's Mobile Command Unit (see next Highlight) as an office for processing the temporary credit card payment and accounting system created and administered by the Fleet Specialist. The various APS Divisions utilizing the Fuel Station were issued a total of 22 credit cards specifically for this provisional use.
New training and certifications acquired
The operation of a fuel station requires unique training specific to safety protocols and knowledge of refueling equipment. Three Fleet Maintenance staff members and the Environmental Management Department Manager attended a course conducted by the state's Environmental Department in becoming certified in a nationally recognized Petroleum Storage Tank Operator Training program. All are now "A" level operators qualified to receive fuel deliveries, dispense fuel, inspect fuel tanks, as well as teach and certify others.
Created Mobile Command Unit (MCU)
A former mobile classroom was repaired and equipped to serve as an "emergency office / control center" to be used at disaster sites, most often caused by fire or flooding. The MCU serves as an onsite construction office that can be readily setup and transported as needed. It considerably aids in work being efficiently carried out, especially during inclement weather and on weekends when permanent office space is locked up. The MCU has shown to be beneficial in coordinating assessment and repairs conveniently right on site. To not delay or suspend school, it is not unusual for urgent projects to run 24 hours a day including weekends.
2014-15, the year of school bus trials
APS is not, or certainly has not historically been, in the school bus business. The District traditionally contracts all bus transportation services with local bus contractors that are in the bus business. Or rather did. The landscape changed profoundly when issues arose regarding the unexpected acquisition of buses at the start of the school year. Students have to be transported to and from school safely and on time every single day; school doesn't stop because buses are decreed out of commission. Following are the three bus related occurrences the Fleet Maintenance Department, in unison with the Student Transportation Department in their respective roles, addressed.
Repaired newly acquired bus fleet to meet Department of Transportation (DOT) and Public Education Department (PED) standards
In August 2014, Mountain Bus Company (the school bus vendor that serviced APS' East Mountain schools) unexpectedly closed their doors, regrettably coinciding with the start of the school year. The District's sudden acquisition of 18 buses presented Fleet Maintenance with the demanding job of bringing the buses up to DOT and PED rigorous safety and maintenance standards. The Department also had to assume responsibility for conducting the mandated inspections prior to every morning and afternoon trip. Select Fleet Maintenance mechanics began work at 4:00 a.m. to properly inspect and repair buses before the morning student pick-up run. A parking lot at Roosevelt Middle School was made available for this purpose. Red tagged buses requiring major work were transported to the Department's 26-bay facility for repairs that extended to Saturdays when necessary. The funds to pay for these repairs and labor hours were paid from the APS Student Transportation Division's budget. The District owned the buses for three trying months, after which time a commercial bus company purchased the mended buses and routes from the District.
Repaired 13 contractor-owned buses red tagged by DOT
A red tagged bus is a bus that isn't going anywhere until it can pass inspection. An APS school bus contractor found themselves in an immovable predicament when DOT performed an inspection on their buses and 13 were red tagged for failure to comply with safety or mechanical standards. The DOT inspector allowed many of the buses to be moved (in a convoy) from the bus company's lot to the APS Fleet Maintenance Department for repair. The mechanic technicians worked 8-10 hour shifts from a Friday through midday on Sunday assisting the contractor in getting the buses ready for reinspection. They all passed inspection and were ready to transport their student passengers to school the following morning. The bus company reimbursed APS for parts and labor costs.
Assisted with complex paperwork when the District acquired 185 buses from Durham School Services
It was a taxing year for bus issues at APS because it was a troubled time for bus companies. Durham School Services pulled out of the Albuquerque market transferring their fleet of buses that were acquired by the District. While the APS Transportation Division is responsible for managing the bus routes, the Fleet Department was assigned the complex task of processing the transfer of ownership paperwork involving titles, registrations, and license plates. The task required working with banks and dealing with power of attorney issues. The Fleet Specialist also worked with the Risk Management Division in issuing APS drivers licenses and qualifying the new APS employees (formerly employed by Durham) to operate APS vehicles. (Note: This was a multiphase event that spilled into the 2015-16 FY and is included here for continuity and clarity.)
Replaced the District's most high-mileage and timeworn vehicles
During the fiscal year APS replaced 56 high mileage vehicles. Divisions and Departments receiving new vehicles included APS Police, M&O (five service trucks), Capital Master Plan, Real Estate, Information Technology, Food Services, Transportation, and ROTC (a large box trailer). All were purchased utilizing a state contract which provided a competitive price, cut down on the number of SPOs, got vendors paid a little quicker, and eliminated a lengthy bidding process. While it improved the overall condition of the District's fleet, many old vehicles are still in need of replacement; high mileage M&O service vehicles and trucks will continue to be replaced.
Noteworthy improvement in SchoolDude WO data entry
As illustrated by the following two graphs, the Department made meaningful strides in the use and understanding of the SchoolDude WO system, and therefore more accurately entering data. Although the Fleet Maintenance Department did increase its PM work over the previous year, the 347.9% increase indicated below is more indicative of correct work classification data entry. The Fleet Maintenance Department's recent acclimatization to the SchoolDude WO system has also required retroactive work order data entry corrective action that includes not grouping several WOs into one and classifying PM work correctly. And the 67.4% improvement in the average days to perform work over the previous year indicates staff closing out work orders on a timelier basis.
FLEET MAINTENANCE WORK ORDER TOTALS

FLEET MAINTENANCE AVERAGE DAYS AGED

Seven underutilized M&O vehicles were reassigned
The Department was able to shift vehicles between M&O departments in meeting demand without purchasing new vehicles. These service trucks were previously used by since departed employees, and held in hopes of filling the vacated positions. Fleet personnel worked with department Managers and Supervisors, who then collaborated interdepartmentally in re-locating seven service trucks that are now much better utilized.
Department up-to-date with repairs and PM work
Previously the Department fell behind on repairs, at times by as much as three months, and PM work also fell behind schedule. The implementation of the Lube Lane, similar to an express quick in and out service bay just for oil changes and quick repairs, established in the last fiscal year, is credited for eliminating the backlog of Fleet PM work orders and repairs.
PM programs (on-going)
In preserving the fleet, the Department performs preventive maintenance schedules based on mileage (4,000 / 12,000 / 48,000) that includes all vehicle manufacturers' required tasks.

PM inspections and repairs are performed to prevent major servicing at a later date. Preventive maintenance improves gas mileage, reliability of fleet, and extends the life of vehicles.
A minimum of three or four PM work orders are scheduled every day in Fleet. The PM includes oil changes, transmission flushes, brake inspections and other safety inspections and repairs as required and recommended by manufacturers' specifications.

Large grounds equipment inspection and service (typically performed in off season while not in use with the exception of rider lawn mowers which are priority during growing season).
Special Challenge
Data entry employee sorely needed
For many years the Department staffed a clerk who processed all purchase orders and performed work order data entry. The duty has since become the responsibility of technicians and the Fleet Specialist. Sans a dedicated data entry clerk, it is the most efficient means to keep current with the massive amount of paperwork.
GOALS
Status of 2014-15 Goals
Bring 18 school buses (acquired when a school bus vendor closed their business in August 2014) up to APS, Department of Transportation, and the Public Education Department standards. Completed, see Highlight above
Replace approximately 25 of the fleet's most high mileage and poor condition vehicles. Funding has been allotted for this purpose and at least a portion shall be released during the current fiscal year as approved by the Executive Director. Completed, see Highlight above
2014-15 Goals
At the end of the last fiscal year, the Department took over the issuing of APS driver's licenses for all M&O drivers of District vehicles from the Risk Management Division, as well as administering of driver training and testing for the required every two year license renewals. It has been a time-intensive undertaking and completing the initial registration for all drivers is pending. The Fleet Specialist is striving to have all completed by June 30, 2016.
Continue updating the Fleet Maintenance Department Procedures Manual to reflect the many new and improved procedures and policies that have been adopted since the Manual was first drafted in 2010.
Identify the most worn M&O service trucks and replace (pending funding)