Electrical
Ron Gallegos, Manager
(27 years with M&O, manager 24 years) 28 technicians and support personnel
Electrical Craft Shops are comprised of Electrical (includes back-up emergency generators); Industrial Arts Repair; Audio Visual; Electronics; Business Machines Repair; Fire Extinguisher Service; Elevators (inspections by City of Albuquerque and service handled by a contractor); and Technology Infrastructure.
The Electrical Department is committed to providing a well-lit and amply powered environment free from flicker and power surges enabling students to concentrate on their studies without eye strain or power hiccups. M&O electricians guarantee a suitable classroom environment that supports alert attentiveness and student achievement.
As with mechanical systems, electrical systems are pivotal to the daily functionality of APS; as electrical failures can close down schools wired for 21st century learning. For a classroom, gym, or library, electrical failures used to mean no lights, heating, or cooling. But today's classrooms rely on computers, smart boards, and numerous other related accouterments that require electric power. And APS' Electrical Department is not only challenged with keeping all systems up and humming to avoid a lapse in instruction and sports activity, it is also under the gun to stay on top of new government mandated energy codes and rapidly evolving electrical technology.
This is not all bad, on the contrary. Sophisticated new lighting technology and electrical systems are providing a higher quality of light while reducing energy and its cost. It demands initial capital expenditures and manpower installation expense, however, which is challenging. But electric conservation is not novel to APS. The Department is continuously advancing energy conservation efforts, currently with an emphasis on metal halide and high pressure sodium systems. The Electrical Department is as aggressive as funding allocation permits in implementing energy efficient systems and procedures throughout the District.
In summary, the Department's electricians are working fast and feverishly in becoming code compliant; replacing antiquated systems with energy saving choices; staying on top of ever intensifying Fire Marshal regulations; and upgrading electrical capacity to accommodate new technology in schools. Many of APS' schools were solidly built to last many decades ago, and indeed they have! The architects and planners of yesteryear, however, could not have envisioned the high tech and electronics-driven needs of today's classrooms.
In addition to the lighting and electrical systems work performed by electricians, other Shops complete the Department. The Industrial Arts Repair Shop provides the students with properly maintained equipment so they can safely experience hands-on training in auto shop, wood shop, art classes, and other industrial studies. Such elective classes afford students a wide range of vocational instruction and a sampling of occupation choices. Shop technicians service all industrial arts equipment and tools that are used by students and staff at middle and high schools and even at some elementary schools. This includes a large spectrum of teaching apparatus such as science equipment; microscopes; scales and balances; sewing machines; paper cutters; kilns; potting wheels; ice machines and appliances; all auto, welding, and wood shop equipment; and numerous other pieces of instructional related machinery, all of which M&O must maintain and update.
The two-man Fire Extinguisher Shop keeps the District's fire extinguisher equipment up to code. This Shop is run on 100% PM work.
Highlights
Lighting retrofits resulted in rebates totaling $64,371, a 91.6% increase over 2014
The Department replaced high energy lighting systems with energy efficient systems at various APS schools in-house, earning rebates from PNM and saving electricity. Following is a partial listing of the retrofit projects:
Lew Wallace Elementary School - Entire school (interior and exterior)
La Luz Elementary School - Parking lot
La Mesa Elementary School - Wall packs
Polk Middle School - Wall packs
Chamisa Elementary School - Wall packs and parking lot
Painted Sky Elementary School - Wall packs
Armijo Elementary School - Wall packs and parking lot
La Cueva High School - Wall packs
Roosevelt Middle School - Wall packs and parking lot
A. Montoya Elementary School - Wall packs and parking lot
San Antonito Elementary School - Wall packs and parking lot
Manzano High School - Main gym hallways, stairwells, and closets
Alvarado Elementary School - Entire school (interior and exterior)
The tremendous savings of these lighting upgrades goes beyond energy costs, rebates, and kilowatts. Performing the work entirely in-house over engaging contractors reduces the cost by over 80%. For example, the Electrical Department's total retrofit of Lew Wallace Elementary School was accomplished for $125,000 (excluding labor costs). The contractor provided estimate for the same complete retrofit of Alvarado Elementary School, similar in size, was $230,000 − 84% higher than M&O electricians can execute the job!
Lighting Update
Previous Year End Reports discussed the on-going conversion of T-12 incandescent bulbs to T-8 florescent bulbs and ballasts as the expense of interior LED lighting was cost prohibitive. While the Department was converting exterior lighting to LED, the far more expensive interior LED conversion for existing facilities was forecasted for some time in the far future. (LED has been installed in all new buildings for several years.) LED manufacturers, however, swiftly changed the direction for industry professionals nationwide, offering state-of-the-art lighting at a rapidly decreasing price. A 34 watt indoor florescent lamp replaced by a 14 watt LED provides equivalent lumens output as the florescent lamp − which is quickly becoming obsolete. In addition to wattage saved, there is never a need to change a lamp or ballast with LED as they don't exist. Drivers replace ballasts with LED lighting and last 10 to 15 years. Lastly, the LED replacement fixtures qualify for PNM rebates. Switching out functioning T-12 incandescent and T-8 florescent systems to LED is no longer on a previously fantasized "wish list" — it's happening now! (See "LED Conversion - Interior & Exterior" appendix on page 89 in Appendices.)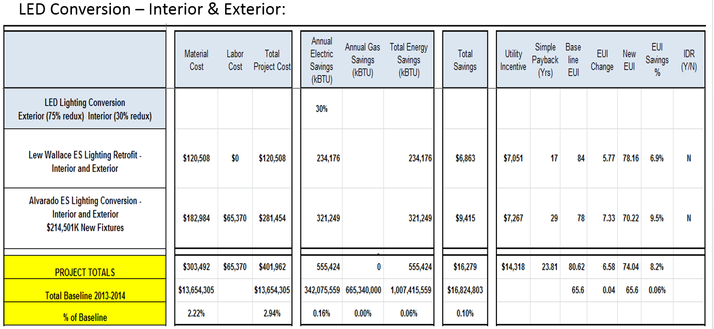 Machinery Repair Shop performed 75.8% more PM work
With one technician in the three-man shop dedicating time to preventive maintenance tasks, 22 more PM work orders were performed in 2014-15 over the previous fiscal year.
MACHINERY REPAIR SHOP

Programmable intermatic time clocks installed at various school sites
In the last fiscal year, the Department launched a new programmable time clock system at Cibola High School. As the new time clocks proved to save time, effort, and operation costs, it was expanded in 2014-15 to include La Cueva High School, Roosevelt Middle School, and A. Montoya, Painted Sky, and San Antonito Elementary Schools. Operated through the APS Intranet, it allows technicians to program lighting from their laptops in minutes. Special requests from the schools for lighting a night game no longer require a technician to visit the site. Installing the data lines and clocks will be conducted in-house throughout the District (approximately five a year). (See "HVAC Web Enabled Intermatic Time Clock" savings appendix on page 90.)
Electrical systems upgraded at 32 computer labs throughout the District
The Technology Infrastructure electrician worked with the Department Manager and electricians in upgrading the computer labs to be more energy efficient and better accommodate the expansive quantity of technology that requires concurrent electrical juice. Each year a list of computer labs are evaluated in identifying those in most need of updating to current needs and codes.
Completed upgrade of elevators at City Center
The major modernization of the four old elevators that began in 2012 was completed. Prior to the upgrade, the timeworn systems required huge generators to operate and delivered a jolting ride. The reconstructed systems are now more reliable, energy and cost efficient, visually appealing, quieter, and provide for a much smoother journey.
Intercom technicians processed paperwork 47.5% faster
The Shop realized an 8.2% increase in work orders in 2014-15 yet completed paperwork and closed work orders in a much improved timely manner.
INTERCOMS SHOP WO AVERAGE DAYS

Fire Alarm Shop dramatically increased PM work
In being proactive with testing fire alarm systems District wide, the five-man Shop increased its PM work by 790% over the previous year!
FIRE ALARM SHOP

Added electrical responsibility of new facilities
APS grew in physical space (187,805 sq. ft.) in 2014-15 adding facilities that the Electrical Department is responsible for maintaining:
Sandia Base Elementary School - Entire school (interior and exterior)
eCademy High School - New cafeteria
McKinley Middle School - Classroom building
Inez Elementary School - Cafeteria and fine arts building
Mitchell Elementary School - Cafeteria/kitchen remodel and expansion
New George I. Sanchez K-8 Community School (largest K-8 in the state) - New Food and Nutrition Services building
Elevator reactive work increased 32.7%
The maintenance contract for the District's 58 elevators does not include addressing unforeseen service calls. These are numerous and include broken keys in switch; keys dropped in the pit; doors that fail to open or close; or emergency phones that need to be replaced, among other issues. This increase in needed attention for elevators is in part due to the fact that APS is adding elevators in multi-floor new construction as well as an increased number of riders.
ELEVATORS
PM programs (on-going)
Federal and state Fire Marshal mandated PM work is performed by contractors and includes:
Fire extinguisher, sprinkler, and alarm inspection
Fire suppression systems
Elevator (quarterly) inspection and service (monthly inspections performed by City of Albuquerque)
Emergency generators inspection (twice a year)
Not government mandated PM is performed in-house:
Replacement of high energy systems with energy and cost effective systems throughout the District.
Special Challenge
Dwindling staff strains manpower resources
The Department has been struggling to perform PM work due to limited manpower. This was further thwarted due to the retirement of four technicians in 2014-15; this is in addition to six techs lost in other recent past years. Although the Department manages to stay abreast of work, it becomes more and more challenging and at the cost of the PM effort. In spite of this issue, technicians are nonetheless proactive in addressing anything that may break while performing reactive work, as illustrated by the 4.8% drop in reactive work orders in 2014-15 over the previous year.

GOALS
Status of 2014-15 Fiscal Year Goals
Convert Alvarado Elementary School's exterior and interior lighting to energy efficient LED lighting. Completed
Complete the update of all elevators at City Center. Completed
Complete (or be near completion) the installation of programmable intermatic time clock systems at all high schools. Completed (See Highlight above)
Complete the total LED retrofit (interior and exterior) of Alvarado Elementary School. Completed
Convert parking lot fixtures to LED at A. Montoya and San Antonito Elementary Schools and Roosevelt Middle School (34 total fixtures). Completed
Upgrade electrical systems at two aging school sites. Not completed, moved to 2015-16
Overhaul at least two (to be determined) old elevators to be new code compliant. Not completed, moved to 2015-16
2014-15 Fiscal Year Goals
Begin installing twist timers in the District's 1,000 plus portables. Occupants leave air coolers and heaters on during nights and weekends wasting precious and costly energy. Twist timers operate controls in preventing occupants from running systems during non-use times.
Install lighting improvements in Del Norte High School's weight/cheerleading room and the corridor between the two gyms.
Upgrade electrical systems at two aging school sites (planning begun).
Overhaul at least two (to be determined) old elevators to be new code compliant.