Grounds
Includes: exterior pest control, heavy equipment, irrigation, landscaping, paving, playground repair, portable moving, tree trimming and service, weed control.
Jerry Lee Ebner, Acting Manager (16 years with District, appointed Acting Manager in 2012)
44 technicians and support personnel
Craft shops include Heavy Equipment Operators; Landscape Maintenance which includes Tree Trimming; Weed Control and Exterior Pest Control; Irrigation; Grounds Safety Inspection; Water Resources; Paving; Portable Maintenance; and Playground Maintenance and Repair.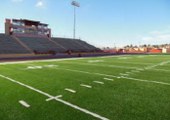 The M&O Grounds Department supports student success and achievement by helping to provide safe, healthy, appealing, and highly functional outdoor common areas, playgrounds, sports fields, and learning environments. In addition, all of the District's outdoor common areas are preserved — important to APS personnel, visitors, and taxpayers. Enhancing and maintaining of all facilities' curb appeal also instills a sense of school pride felt by the students, parents, neighboring community, teachers, and staff.
Portable maintenance technicians provide exterior maintenance and access (including special needs access) to approximately 1,600 portable classrooms. Landscape and Irrigation Shops maintain and irrigate the District's 240+ acres of athletic fields, over 150 playgrounds, and tens of thousands of trees, drought tolerant landscaping, ornamental lawns, and other vegetation. Playground technicians are dedicated to providing safe playground equipment and play space for students, performing inspections and repairs on thousands of pieces of playground equipment. Ground horticultural pest control technicians eradicate pernicious weeds and insects that never take a holiday. The Heavy Equipment Shop provides support to other M&O technicians, such as plumbers and electricians, in performing repairs that would otherwise impede the educational process. They also handle heavy equipment tasks with regards to erosion control and ADA access issues. The Shop is also responsible for maintaining the District's paved surfaces, grading dirt tracks for student safety, and the collection and delivery of materials—such as sand, wood chips, and fill-dirt—to playgrounds and other areas.
Highlights
Stayed abreast of West Nile virus outbreak
The Department's quick attention to the West Nile virus outbreak that swept the nation in 2012 resulted in no reported infections at APS. Inadvertent standing water was immediately pumped and ponds and grass areas were sprayed. All Grounds technicians were alert to standing water and generated work orders to have it and its source attended to straightaway.
Installed new artificial turfs at Milne and Wilson Stadiums
The threadbare artificial turfs at both stadiums were of the first generation of artificial turf; the new turf product has come a long way since artificial grass first replaced natural grass at the stadiums. Providing years of service to the District, the latest generation of synthetic turf is safer, longer lasting, and will better serve the student athletics.
Purchased new crack sealer machine for asphalt repair
As the Department's old crack sealer was on its last legs, the Department repaired the hazardous cracks while minor cracks were delayed. Now all cracks are immediately repaired in-house, at a substantial cost savings, and the trivial cracks will never become menacing. Paving maintenance is a priority for M&O.
Added responsibility of new field, playground, and parking lot
A new track and athletic field was added to James Monroe Middle School, and Los Padillas Elementary School got a new parking lot. Also, the athletic fields at Los Padillas Elementary School and Roosevelt Middle School that were previously joint-use fields with Bernalillo County are now solely the responsibility of the District.
Performing water use audits at high-use sites
The Department is being assisted by an independent contractor hired by the municipal water utility, at no charge to the District, in performing water audits at high water use sites to help determine how to reduce water use and ensuing surcharges.
Have made adjustments at Volcano Vista High School where excessive water use has been particularly challenging. Results are promising and the site continues to be monitored.
Performed resurfacing project
Resurfaced tennis courts at Highland High School.
Engaged temporary employment service to aid in weed control
Because as staff shrinks weeds flourish, the Department hired a temporary ten-man crew to aid in winning the war on weeds at most APS schools. The program will resume next year after it is evaluated.
New PM programs
Mowing fields at high schools twice a week and at other locations once a week (now PM Direct scheduled)
Irrigation system route inspections (weekly)
PM programs (on-going)
Grading dirt tracks
Irrigation controllers (spring and fall)
Landscape maintenance of baseball and softball fields (corrective action at infields)
Playground equipment audits (cut back from twice a year, then to annually, and currently down to once every 14 months due to personnel shortage)
Grounds safety inspections
Fall and one early spring fertilization (improved to be more drought-tolerant)
Pre-emergent weed control on bare ground (not turf) to prevent weeds from germinating (weed control not used on any fields for safety reasons)
Aerating and re-seeding athletic fields (cut back on frequency from twice a year to once except on football fields which are aerated and re-seeded twice a year)
Fields inspection of sprinkler heads and bare spots (twice a week when possible spring through fall)
Inspection of tennis courts and paved tracks (resurfacing and other maintenance as needed)
Condition of paving and repairs analysis, from minor to complete resurfacing and pothole patching
Grub control program which eliminates damage to athletic fields
Clean outside storm drains every spring prior to monsoon season
Sweep all District parking lots every summer
Special Challenge / Issue
Continued loss of employees resulting in grim consequences
The already lean Department lost four qualified technicians in 2011-12 — one pest control, one irrigation, and two portable maintenance technicians. The staff works hard to stay on top of the District's ever growing recreational acreage and common area outdoor space. The curb appeal at some school sites is not up to District standards, as plants and trees age, grass fries, and open areas fight weeds — and unfortunately and understandably, it has fueled complaints. In addition, response time has been challenged and the frequency of PM is pushed.
89.3% of the 499 surveyed participated in the Voice of the Customer evaluating M&O's effectiveness and efficiency in 2011-12.

Voice of the Customer question:
Please rate our M&O work?
87% (B)
from the participants.

Considering all performance questions, M&O received an average grade of
94% (A)
As recounted in the preceding Year End Reports, all of M&O has been hit by drastic budget cuts challenging staff members, from management to technicians, to perform more with less. Personnel have met this challenge by planning better and working smarter. Procedures have been streamlined and tightened throughout M&O and school sites have not borne major consequences — with the exception of the District's grounds. As dying vegetation and browning lawns don't cause actual physical harm to anyone, the Grounds Department has been particularly hard hit with fewer technicians. Certainly these issues validate the importance of preventative maintenance in saving manpower, time, costs, and District assets.
GOALS
Status of 2011-12 Fiscal Year Goals
Move one of the five remaining fields from independent to computerized central control irrigation system. Done at two schools (S.Y. Jackson and Hubert Humphrey Elementary Schools)
2012- 13 Goals
Complete the remaining three fields from independent to computerized central control irrigation system (funding permitted).

With the exception of these few fields, all others have been switched District wide at a significant savings of cost, water, labor, time, and travel, as the remote control system eliminates the need for a technician to be on site to control irrigation.

Work with the APS ADA Office to improve as many elementary school playgrounds as possible to meet ADA compliance. The new ADA standards regarding the accessibility of public playgrounds in the U.S. went into effect March 15, 2012 and address routes, surfacing, ramps, access and transfer spaces, ground level activities, and more.
Complete resurfacing of the running track at Eldorado High School with new rubber surface and subsurface.