Grounds
Includes: exterior pest control, heavy equipment, irrigation, landscaping, paving, playground repair, portable moving, tree trimming and service, weed control.
Richard Segura, Acting Manager (34 years with District, appointed Acting Manager in 2013)
44 technicians and support personnel
Grounds Craft shops include Heavy Equipment Operators; Landscape Maintenance which includes Tree Trimming; Weed and Exterior Pest Control; Irrigation; Grounds Safety Inspection; Water Resources; Paving; Portable Maintenance; and Playground Maintenance and Repair.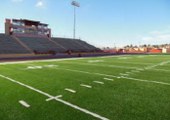 The Department's contribution to student success is maintaining the aesthetics, functionality, and safety of all the District's outdoor space, from common areas and learning spaces to athletic fields and playgrounds. Although much of the routine work for the Landscape and Irrigation Shops focuses on irrigation, weed control, and mowing of the District's 360 plus acres (up from 230 in 2008-09) of athletic fields, the grounds technicians also maintain 60+ acres consisting of ornamental native grasses, lawns, trees, bushes, shrubs, and other vegetation. Grounds is also charged with the preservation of asphalt and paved surfaces (which include 1,000+ acres of parking lots) as well as keeping all playground equipment in good and safe condition. Regardless of the area's purpose — learning, sports, recreation, or curb appeal — upkeep of the grounds protects the District's assets and inspires the school pride that is important to the student population and their parents, teachers and staff, in addition to the neighboring community.
Portable maintenance technicians provide the exterior maintenance and access to APS' approximately 1,600+ portable classrooms, including special needs access. Playground technicians are assigned with the inspection, maintenance, and repair of playground equipment. Ground horticultural pest control technicians control noxious weeds and insects, from the merely pesky to those that pose a hazard to children's health. The Heavy Equipment Shop supports other M&O departments' technicians, such as plumbers and electricians, in performing repairs that would impede the education process if left unattended. They are also responsible for ADA access issues; maintenance of paved surfaces; grading dirt tracks for student safety and other areas for erosion control; and the collection and delivery of materials (sand, wood chips, fill dirt) to playgrounds and other areas.
Highlights
Added water pumps at Valley High School
Auditing water use at high-use sites (started in the last fiscal year and assisted by an independent contractor hired by the municipal water utility at no charge to the District) revealed inefficient watering at Valley High School. The newly installed booster pumps provide improved water pressure to field irrigation without using more water, and deliver better water coverage.
Added responsibility of new acreage
APS' continued expansion of grounds every year also multiplies work for the Grounds crews.
• The new APS Community Stadium on the west side is 110 acres.
• A new softball track at Van Buren Middle School contributes approximately two acres of added grounds.
• Approximately 1.5 acres of new football field was added at James Monroe Middle School.
• Sunset View Elementary School got a new one-acre athletic field. Also, joint-use areas that were formerly
  shared with Bernalillo County have become solely the responsibility of APS:

• Armijo Elementary School – approximately a half acre
• Los Padillas Elementary School – approximately three acres
• Double Eagle Elementary School – a half acre of soccer field
• Roosevelt Middle School – approximately two acres
Upgraded running tracks at three schools
The running tracks were upgraded from dirt to asphalt at Van Buren Middle School, James Monroe Middle School, and Marie Hughes Elementary School. Asphalt is a much superior running surface for the students but requires more upkeep as asphalt cracks and suffers pot holes. Yearly summer inspections and repair is required on all asphalt surfaces.
Upgraded playgrounds at select elementary schools
The Playground Supervisor coordinated the installation of a new playground at Pajarito Elementary; the replacement of a large piece of playground equipment at Atrisco Elementary; and a total upgrade of the
playground at Dolores Gonzales Elementary School which included new playground equipment, replacing sand with woodchips, and installing ADA ramps.
Replaced the Arizona Cypress trees at Sandia High School's north parking lot
The dry and dying 40-year old trees could not be saved and were a multiplying eyesore. All the old failing Arizona Cypress trees were replaced, approximately 30, greatly improving the school's appearance.
Re-sod grass at high school softball and baseball fields
The worn patches in the in-field and baselines were re-sod at all high school softball and baseball fields. The bare areas, worn to the dirt, required more than a mere re-seed to address properly.
Repaired parking lots at select sites
Due to the direly needed new crack sealer purchased in the last fiscal year, the Department repaired damaged parking lots at Milne Stadium and at 12 APS schools.
Repaired tennis courts District wide
Every tennis court in the District had cracks that needed repair, from small to large. The courts at Highland and Monzano High Schools were completely resurfaced/redone.
Performed resurfacing/paving/asphalt projects
Part of the bus lane at San Antonito Elementary and the playground at La Mesa Elementary School were redone.
New retention pond constructed at Wherry Elementary School
The holding pond, limiting flooding and removing pollutants, greatly improved the safety, appearance, and condition of the school's grounds.
Purchase of two new Kenworth dump trucks improved response time and service
The tandem axel heavy duty trucks replaced two old high mileage trucks, one with a blown-out engine and the other simply lacking the power to perform regularly needed large jobs. The new dependable trucks provide better fuel mileage, quicker response time, and bring the Department's total of tandem axel trucks to six. The two old trucks were repaired and are now put to good use as backup for light jobs.
Landscape Shop acquired a new rider mower and two new top dressers
The addition of so many new schools initiated the need for an additional rider lawn mower and a more efficient lawn mowing schedule. The Shop's eight mower technicians now each has their own route that comprises mowing six schools a day in a designated region. The additional top dressers allow for faster and improved turf maintenance.
Grey water now exclusively used for irrigation at Wilson Middle School
In dividing the single water meter at the site into two separately designated meters, one for potable use and the other for reclaimed water (by the City), the field irrigation and other irrigation on the east side of the campus are economically watered by the less expensive grey water.
Contractors and APS Transition Students assisting with weed control
The Landscape Shop is perpetually challenged by thriving weeds throughout the District's schools. However, an on-the-job work training program — the APS Transition Education Program (TEP) — is providing much needed assistance. TEP is a collaborative effort between APS and Bernalillo County that provides alternative education pathways to at-risk students not currently enrolled in a school setting. In the case of students with an interest in grounds maintenance, students learn basic horticulture as well as pesticide use while assisting Grounds Department technicians win the war on weeds.
PM work increased and reactive work decreased in Landscape Shop
As illustrated by the following graph, the Department's Acting Manager attributes the 6.5% increase in PM work orders to the improved lawn mowing schedule, and the 21.3% decrease in reactive work orders to the aggressive weed control program.
Landscaping Shop
New PM programs
• Spring and summer fertilization of all athletic fields and ornamental grass (February through March and again
  May through July)
• Annual summer grub inspection and spraying of athletic fields throughout the District (June through
  September)
PM programs (on-going)
• Grading dirt tracks
• Irrigation controllers (spring and fall)
• Landscape maintenance of baseball and softball fields (corrective action at infields)
• Playground equipment audits (cut back from twice a year, then to annually, and currently down to once every
  14 months due to personnel shortage)
• Grounds safety inspections
• Fall and one early spring fertilization (improved to be more drought-tolerant)
• Pre-emergent weed control on bare ground (not turf) to prevent weeds from germinating (Weed control is not
  used on fields for safety reasons.)
• Aerating and re-seeding athletic fields (cut back on frequency from twice a year to once except on football
  fields which are aerated and re-seeded twice a year)
• Fields inspection of sprinkler heads and bare spots (twice a week when possible spring through fall)
• Inspection of tennis courts and paved tracks (resurfacing and other maintenance as needed)
• Parking lot asphalt inspection and repairs, from minor to complete resurfacing and pothole patching
• Grub control program which eliminates damage to athletic fields
• Clean outside storm drains every spring prior to monsoon season
• Sweep all District parking lots every summer and clean after rain storms
• Mow athletic fields at high schools twice a week (seasonal) and at other locations once a week (now PM
  Direct scheduled)
• Irrigation system route inspections (weekly)
Special Challenges / Issue
The increase of District grounds without the equivalent increase in manpower
APS increased its turf acreage from 230 in 2008-09 to 360 plus currently, an expansion of 56.6% in just four years! The extraordinary new APS Community Stadium on Albuquerque's west side is alone responsible for 110 acres of this growth. Every year the hardworking grounds crews are stretched thinner and thinner. Purchasing a new rider lawn mower and tweaking PM maintenance schedules has certainly streamlined the routine inspections and maintenance process, but the response time to reactive work orders is regrettably slower every year. The expanding acreage but no additional technicians are an incongruity.
Goals
Status of 2012-13 Goals


Complete the transition of athletic fields from independent to central computerized control irrigation system (funding permitted). Completed at Los Padillas Elementary, Ernie Pyle Middle School, and Sandia High School.
Work with the ADA Office to improve as many elementary school playgrounds as possible to meet ADA compliance. The new ADA standards regarding the accessibility of public playgrounds in the U.S. went into effect March 15, 2012 and addresses routes, surfacing, ramps, access and transfer spaces, ground level activities, and more. Completed at Atrisco, and Dolores Gonzales Elementary Schools (see highlight above). Remaining schools will be tackled by M&O and FD+C as funding is made available.
Complete resurfacing and paving of the running track at Eldorado High School with new rubber surface and subsurface. Done.
2013- 14 Goals
Upgrade the running track at Highland High School with a new rubber surface and subsurface.
Resurface (asphalt) projects: playground at La Luz and Bel-Air Elementary Schools; John Adams Middle School parking lot; and Cibola High School student parking lot.
Monitor and reverse high water use at Volcano Vista and Atrisco Heritage Academy High Schools. Adjustments were made to the sprinkler heads in the last fiscal year; however, much more is required to correct the inexplicable volume of water use at the school.
Continue transiting fields from independent to a more efficient computerized central control irrigation system (funding permitted). The central control system provides a considerable savings of cost, water, labor hours, and travel as the remote control eliminates the need for a technician to be on site to adjust irrigation and usage. Slated for the transition are Chelwood and Hubert Humphrey Elementary Schools.