Environmental Management
Includes: environmental inspections.
Van Lewis, Manager (16 years with M&O, manager 6 years) 9 Inspectors/staff
The Environmental Management Department is not comprised of craft shops but rather staffed with certified Environmental Inspectors with different disciplines who conduct federally mandated environmental inspections and oversee the remedying of any environmental quality issues that are detected.
Clean and safe indoor air is a must in classrooms as poor air quality — due to mold and other contaminants — results in highly demonstrable negative health effects that are unfavorable to students' ability to concentrate and absorb information. Enduring irritated eyes, nose, and throat or dizziness and headaches, diverts students' attention away from classroom lessons to all that ails them.
At the core of M&O's purpose is furthering academic performance through preserving the environmental quality of learning spaces. The Environmental Management Department serves this purpose by inspecting and resolving issues with regard to hazardous building materials. Findings of asbestos, radon, mold, and lead-based paint are addressed straightaway in regularly maintaining ambient indoor air quality. Inspectors are also responsible for the quality of potable water and waste water treatments in meeting state and federal drinking water and ground water standards compliance.
APS' Environmental Management Department, launched in 1989 when asbestos abatement legislation became effective, is the sole in-house environmental management program throughout New Mexico school districts. Actually, few public school districts across the nation are supported by their own environmental management team. APS' Environmental Management Department not only provides an unparalleled environmental program (APS has never failed an EPA asbestos inspection audit), it does so at a greatly reduced cost over hiring independent environmental consultants. APS' Inspectors save the exorbitant cost of hiring environmental consultants at $70-150 per hour.
APS' Inspectors maintain over 20 specialized environmental certificates and licenses that include Asbestos Contractor Supervisor, Asbestos Inspector, Asbestos Management Planner, and Asbestos Project Designer. Certifications are also required in Hazardous Waste Operations, Water Quality, Waste Water Systems, and Indoor Air Quality.
Because the Department is focused on staying ahead of EPA and OSHA mandates, approximately 95% of work is preventative maintenance. Reactive work consists of that initiated by other M&O Departments, APS Divisions, or occupants of District schools or facilities. Occupant complaints, often of suspicious odors, are responded to and investigated immediately. And should an M&O Department or APS' Facilities Design + Construction need to perform maintenance or renovation construction that will impact building materials (floors, ceilings, walls, plumbing), they must first request an AHERA Compliance Work Plan, commonly called a permit, prior to beginning the project. The Environmental Management Department will review the historical data of the site, take samples of the materials for analysis, and generate the permit. The permit (see example on following page) authorizes and details how to properly carry out the work in the specified area.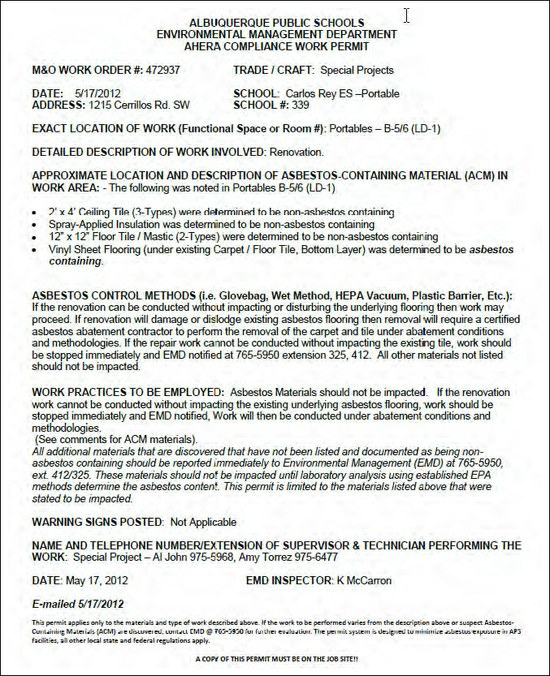 Please click the image to see a larger version.
The Department is vigilant in identifying and addressing contaminants found in schools before they can cause discomfort or harm to occupants or hinder the students' ability to learn. Sustaining healthy facilities and clean water throughout the District is the Environmental Management Department's singular concern and responsibility and they execute it knowledgeably and proficiently.
Highlights
Extended utilization of PM Direct
Transitioning from manual scheduling of PM work to PM Direct resulting in easier tracking and inspection assignments.
Awarded sample analysis contracts to various laboratories resulting in substantial savings
The Department previously worked with the only and costly chemistry laboratory in New Mexico, based in Albuquerque, for the analysis of material samples. While this laboratory remains the current single choice in emergency situations as only a local entity can provide quick turn-around findings, three out-of-state analytical laboratories have now also been awarded contracts to serve the District's non-emergency needs. The vast majority of needed analyses, approximately 70%, is not time sensitive and will now be distributed evenly to all labs. This will provide an opportunity to compare quality and delivery of service (normally 2-3 days) of each competitive laboratory. The approximately 2,500 non-emergency samples sent out for analysis a year at a fraction of the previous cost will save the District considerably.
Collaborating with APS Risk Management in restoring damage covered by insurance
Risk Management has switched from utilizing contract adjusters to hiring in-house adjusters. While the APS adjusters can respond instantly when an emergency occurs, such as a flood, most do not have sufficient structural experience. The Department Manager and Inspectors are providing guidance in acclimating them to investigating and assessing structural damage. Ultimately, as the new adjusters become proficient, it will be a great advantage to have professionals who can step in at a moment's notice in respect to resolving emergencies quicker.
The Department is also providing assistance to Risk Management in overseeing the work performed by contracted restoration companies. In providing the scope-of-project to contractors and guiding their work, damage repair is carried out more efficiently and expenses are limited.
Improved tracking of employee leave with electronic system
The Department has developed a computerized method to track and record employees taking paid leave. The prior system used a three-carbon hardcopy form completed by the employee and forwarded to the Manager for approval and signature. One copy was provided to the Department secretary for entry into the Lawson Payroll system and another copy was stored in the employees' personnel files.
The new computerized system has done away with completing, shuffling and distributing, and filing hardcopy leave slips. Leave forms are now accessed and completed via an electronic request form forwarded to the Manager for review and approval. The Manager provides his approval signature electronically, forwards a copy of the form to the Department secretary for Lawson Payroll entry, and saves the form in each employee's electronic personnel file all in one quick task. The system provides for an efficient record of each employee's "leave balance," a quick and easy means to check availability of staff members, and improved checks and balances of paid leave taken.
Upgraded CAD services and software
Last year's Report recounted the difficulties encountered by the Environmental Inspectors due to the suspension of APS CAD services in 2010. Due to the loss of both CAD operators, the architectural drawings indicating locations of asbestos throughout the District were not being updated as construction and renovation projects occurred. And as the drawings are required documentation in asbestos work, the Inspectors had to learn how to update CAD drawings and save the updates on their own computers.
Fortunately, the APS Capital Master Plan Division hired a CAD Planner in 2012 who is updating drawings and has the authority to engage independent contractors to assist with the process of bringing the drawings up to date. The Inspectors once again have a resource to access and update drawings on the central CAD database saving considerable time and effort. In addition, the Inspectors had been using outdated (2000) software so were unable to successfully access and read newer architectural drawings. The latest software version has been installed in all Inspector computers enabling them to now read current files. In addition, other District users of the information, such as APS Police and school administrators, can request drawings directly from the CAD Planner saving the Environment Management Department meeting this need.
Remote access to Asbestos Management Plan database expanded to all Inspectors
Marna Wenderott, Management Planner for the Department, developed a process in the 2010-11 fiscal year whereby staff can access their office computers via the APS Intranet using a laptop computer or electronic notebook; it was expanded to include all Inspectors in 2011-12. Every Inspector is now equipped to work "live" on the Department's database. All needed information about the school is easily available via their electronic notebooks. The time savings over the previous method of printing hundreds of pages of information and hauling them to the school site is immeasurable.
New PM program
Added Respirator Fit Tests (government mandated for all M&O technicians) and waste water sampling to PM Direct for automatic scheduling. While the Department never missed performing these functions when manually scheduled, it is now easier to document and track the tasks.
Continuing Special Challenge / Issue
As stated in last year's Report, local Construction & Demolition (C&D) landfill operators are not accepting non-friable asbestos, in spite of the fact that it is legal. They refuse the loads of non-friable asbestos roofing material waste in fear of being (improperly) cited by the New Mexico Environmental Department. Every state surrounding New Mexico allows disposal of non-friable asbestos construction debris in a C&D landfill. And while it is also legal in New Mexico, it is not interpreted as such by the landfill operators. The New Mexico Environmental Department simply needs to issue a clarification. The unresolved matter is causing a costly and time-consuming disposal problem for APS as M&O departments are forced to use the one asbestos landfill in the state located 75 miles from Albuquerque (in Mountainair). The significantly increased cost curtails the number of roofing projects M&O can complete each year. The M&O Environmental Management Department Manager continues to struggle with the issue that has been turned over to the District's legal counsel.
GOALS
Status of 2011-12 Fiscal Year Goals
Redistribute tasks of the Inspectors to be more specialized and conserve time and resources. (Currently all Inspectors perform all environmental tasks at their assigned schools.) Will be incorporated into the Department's Procedures Manual and organizational chart. Process stared but has not been fully developed. Hope to have completed in 2012-13.
Minimize hazardous waste streams generated by the M&O shops. Done
2012-13 Fiscal Year Goals
Perform a complete redesign and reconstruct the main boiler room and water treatment system at Corrales Elementary School. This project is necessary to facilitate proper drinking water treatment and ensure that safe and healthy water is provided at the school.