Building Services
Includes: blinds and shades, carpet cleaning, custodial coordination, custodial equipment repair, dispatch emergency, interior pest control, specialty cleaning, warehouse management.
Fred Montano, Manager (32 years with APS, manager 10 years)
49 technicians and support personnel
Craft Shops include; Custodian Coordination; Interior Pest Control; Custodial Equipment Repair; Carpet Cleaning (includes water extraction); Specialty Cleaning (includes graffiti removal); Custodial Equipment Repair; Blinds and Shades; Dispatch Emergency; and M&O Warehouse Management.
Building Services is responsible for keeping APS schools and other facilities sanitary and pest free, unquestionably one of the District's dirtiest yet necessary jobs. As bothersome insects and offensively soiled floors and furniture are not favorable to a learning environment, these distractions are attended to immediately and with minimal disruption to the classroom. And sandblasting graffiti off structures, walls, and sidewalks maintains not only the schools' physical appearance and the District's assets, but also the pride and school spirit of the students. A great percentage of the Department's work orders regard large emergency cleaning projects, approximately 80%. But yet there is room for preventative work and it includes major annual power washing and interior pest control inspections, which successfully keep facility occupants happy and complaint free.
Building Services also trains custodians and provides substitute custodial support to the schools. And in addition to keeping the District sparkling clean, the Department is also responsible for buying, stocking (in the M&O Warehouse), and distributing $900,000 worth of maintenance and repair supplies, materials, and equipment for use by all M&O technicians. And the team of two dispatchers ensures that emergency work is communicated to the appropriate M&O Managers and Supervisors straightaway and correctly.
The 2011-12 fiscal year was the first time in a number of years that the Department lost no employees. Building Services lost seven positions in 2010-11 and three positions the previous year, all but one due to retirements. And because the vacancies were eliminated rather than simply held unfilled until monies were made available to replace them, the Department has operated with a near 20% reduction in staff, which requires augmenting with costly contractors.
Highlights
Procurement Specialist hired in M&O Warehouse following an 8-month vacancy
Following the retirement of the longtime Procurement Specialist, the position remained vacant for nearly a year while a qualified replacement was sought. The Building Services Manager filled in during this time and consequently was made aware of procedures and practices that needed to be improved upon; he then implemented the improved procedures with the arrival of the new Procurement Specialist.
Drafted M&O Warehouse Procedures Manual
The Manager's active involvement in the M&O Warehouse also highlighted the need for a more comprehensive and itemized Procedures Manual which was completed in 2012. The Manual will be reviewed and updated at least annually.
Creation of electronic folders and forms for all Shops
Information relevant to all Building Services Shops is now available on an electronic database and accessible to all staff. Organized by folders, information includes Shop activity, updates, and all forms in a "My Documents" folder that can be shared by all and completed on the system (Shop purchase requests; absence request slips; SP-9 forms; overtime slips, and more).
Monitoring M&O Warehouse requisitions upgraded from manual to electronic system
The Department transitioned from tracking requisitions on a hardcopy ledger to a more efficient electronic system. The Procurement Specialist can easily update the information, save it to the designated folder, and back it up on a server. The electronic file is now quickly accessible by the Manager for easy oversight.
In addition to the date of requisition, requisition number, and purchase order number, the process includes "checking" off when a PO has been printed, when the Receiving Document has been printed, and when the Budget Status Report has been entered into the M&O database; "cross checked" when the vendor has been paid (check issued); the purchase amount; and lastly the Cost Account, whether Operational funds (1100) or SB-9 funds (3107) are used. It is highly unlikely that a step in the requisition process is overlooked or falls through the cracks. (See below example of electronic form).
2012-13 M&O Warehouse Requisitions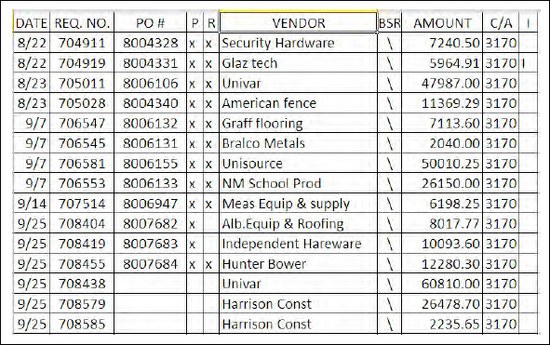 Tightened M&O Warehouse inventory control
Prompted by the electrical stock that was routinely off count, the Manager is now mandating that the M&O Warehouse Supervisor check the quantities in the Lawson Inventory System with each shipment received as well as assign the applicable Clerk to conduct a Warehouse count. In the case of a miscount, the Supervisor is to track history as far back as necessary to find error before the new shipment is added to the bin and to the Inventory Lawson System.
New electronic data and Re-Order Form system implemented for M&O Warehouse personnel use
The Building Services Manager created and implemented a new electronic data and Re-Order Form system for Warehouse staff use. A different form now exists for each of the 18 Warehouse departments. Created using the Lawson Inventory Catalog, Warehouse personnel can now easily "copy" items from the Catalog and "paste" them onto the electronic Re-Order Form. Lawson then automatically provides all related data accurately. Training personnel on the new data system was recently completed.
Evaluation of Green Hornet hardcopy system to electronic in progress
As it is important that approval signatures are acquired after the Green Hornet request for inventory is complete and as the purchase cannot proceed without the authorizing signatures, a more efficient and timely means of acquiring approval is needed. The Building Services Manager is evaluating the viability of transitioning from 61 a Green Hornet hardcopy system to an electronic system. Green Hornets (final and those in progress) would be saved on a secured server accessible by all parties allowing the authorizing Managers and M&O Director to more efficiently and promptly provide approvals for purchase.
Increased preventative maintenance work Department wide
As indicated by the following graph, Building Services continues to expand its PM program — a 12% increase over the previous fiscal year.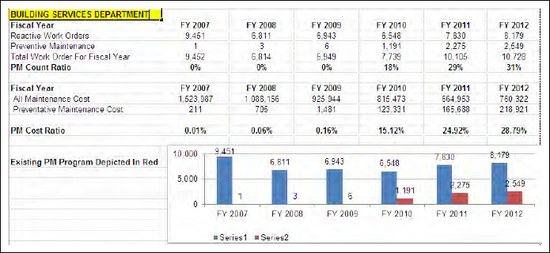 Increased interior pest control PM work
For the third consecutive year, interior pest control PM control work orders increased — an improvement of 14.25% in 2011-12 over the previous fiscal year. And for the first time, reactive work orders decreased a notable 11.88%.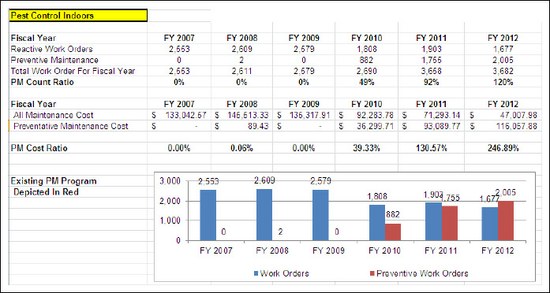 Continued Challenge / Issue
Pigeon excretion on air conditioning units escalates along with work orders
Reactive work orders continue to rise due to homing pigeons' penchant for hanging out on evaporative cooling units throughout the District. Their excrement results in offensive odor blowing into classrooms along with the cooled air. It's not possible for the Department to keep up with cleaning the coolers as the pigeon population greatly outnumbers Building Services staff. And in addition to cleaning the units frequently, work orders are now coming in for the cleaning of air ducts. So far the pigeons are winning the battle, but the Department continues to work on making the cooling units undesirable gathering spots.
PM programs (on-going)
Thorough pressure washing / cleaning of each school annually (summer)
Interior pest control school inspection bi-monthly (reduced from 12 to 9 months a year)
Annual custodial maintenance / repair at every school site
GOALS
Status of 2011-12 Fiscal Year Goals
Create a PM program in one-man Blinds Shop. It will require creativity, yet it's critical to keep reactive work orders to a minimum as well as comply with the requirement that all blinds are closed during "lock downs" at schools. Started but not fully implemented; one technician is managing to regularly perform a few and hopes to expand.
Incorporate the APS Materials Management Warehouse (scheduled for shut down) with M&O's Warehouse. Aborted as it was determined that the Materials Management Warehouse would not shut down as planned.
Voice of the Customer question:
Did M&O personnel check-in at the Administrative Office and sign-in?

M&O earned a grade of
97% (A)
2012-13 Fiscal Year Goals
Manager will monitor SchoolDude Craft Reports for all Building Services Shops to confirm accuracy.
Improve security of the M&O Warehouse's second floor. Fabricating a lockable metal security gate is under consideration. The Manager will coordinate with the M&O Welding Shop.
Appraise equipment in all Craft Shops and replace where necessary (pending funding). Essential but aged and use-worn equipment is routinely malfunctioning causing delays in completing work. Industrial carpet cleaning machines and hot water washers top the list.
The Procurement Specialist is charged with implementing a system for identifying obsolete vendor contracts for an initial clean-up (removal and shredding) followed by continued review and maintenance.