Overview of Maintenance and Operations
The M&O Division of Albuquerque Public Schools is responsible for the physical, environmental and safety, and esthetic condition of New Mexico's largest collection of public buildings and one of the largest public school districts in the nation. APS is comprised of 16.1 million total square feet of property that includes 14.4 million square feet of facilities at 161 locations housing traditional schools (13 High, 27 Middle, and 79 Elementary), various alternative and charter schools, nine administrative buildings, and three sports stadiums. M&O's own sizeable site, Lincoln Complex, consists of numerous Craft Shops within eight service departments, the M&O Warehouse, the Materials Warehouse, and the currently under renovation Building M facility.
APS' M&O Division regularly ranks in the top five percentile in the national study of M&O performance conducted by the Council of the Great City Schools (CGCS) and was honored with the top spot in 2011. The annual research findings present a wide-ranging array of statistical indicators developed by the CGCS and its member urban school districts to measure the performance of large public K-12 school districts. And because APS depends on the many services provided by M&O that are central to the uninterrupted and smooth functioning of its sole purpose — educating students and imparting a love of lifelong learning — the Division's 266 staff members strive to retain their standing in the upper tier of the national study.
While educating children, the nation's future leaders, is the very point of APS' existence, M&O's many services make that very existence possible. The education process is reliant on the schools' aesthetically pleasing and comfortable classrooms, libraries, cafeterias, and gyms. This requires that Structural technicians keep the buildings standing tall, proud, and safe, aided by the District's own Environmental Management program, while Building Services personnel assure that all interior space is clean and pest free. Mechanical and Electrical staff keep the buildings' systems functioning properly and reliably, while APS' exterior is maintained by skilled Grounds crews. Unique to APS is M&O's own Fleet Maintenance Department ensuring that APS' large fleet of vehicles are dependably in-service, therefore never delaying maintenance or repair service to the schools or inconveniencing executive drivers of District cars.
Maintenance Direct is key to effectual work order management
Whereas M&O is the heartbeat that keeps schools open and functioning at top performance, SchoolDude's MaintenanceDirect (MD) / Facility Information Management System (FIMS) database is the nucleus of M&O's work order system. The New Mexico Public School Facility Authority purchased SchoolDude in 2005 for all of the state's public school districts. MD/FIMS has significantly increased M&O's productivity and streamlined the management of every department's function. M&O started slowly in fully utilizing MD/ FIMS, as the learning curve was steep, but has built momentum and knowledge of the system every year. SchoolDude also continuously expands MD/FIMS' many existing modules and adds new helpful features in more precisely aiding work order management. M&O leadership stays abreast of how each new or improved MD/FIMS module can assist in continuing to improve worker productivity, Department and Shop efficiency, cut costs, and utilize historical data for future planning.
Password accessible to all M&O staff, schools' authorized personnel, and service contractors via the APS Intranet, MD/FIMS provides the same timely information regarding the status of work orders, eliminating misinterpretation and confusion between all parties. MD/FIMS prioritizes work orders (low, medium, high, or emergency), disseminates, and tracks every detail of every WO (materials costs, time, vendor costs, job status, and more) from initial request through the completion of the job. Employee Productivity Reports state the number of tasks performed by each technician and the time taken to execute every job, explicitly conveying each technician's task specific and overall performance. Department Managers applicably address performance concerns on an as needed basis in advancing each technician's skills and job success. (See SchoolDude KPI Dashboards in Appendices on pages 130-133.)
---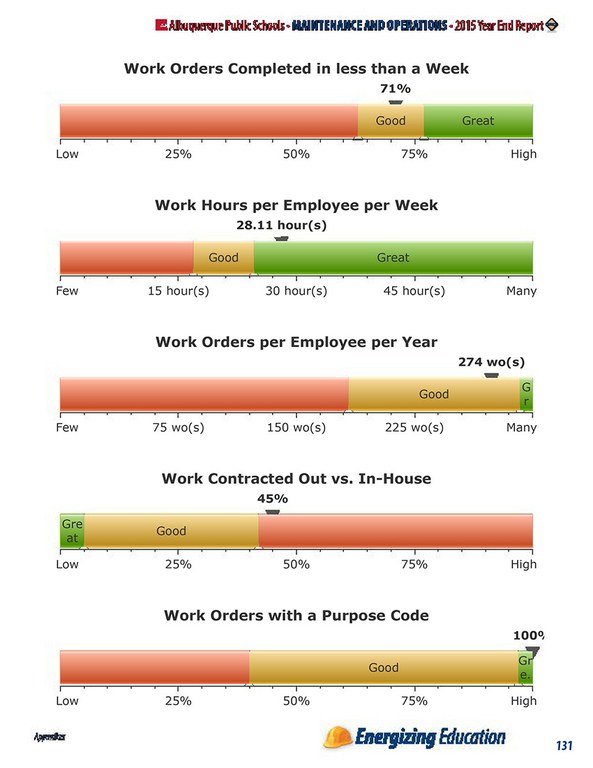 ---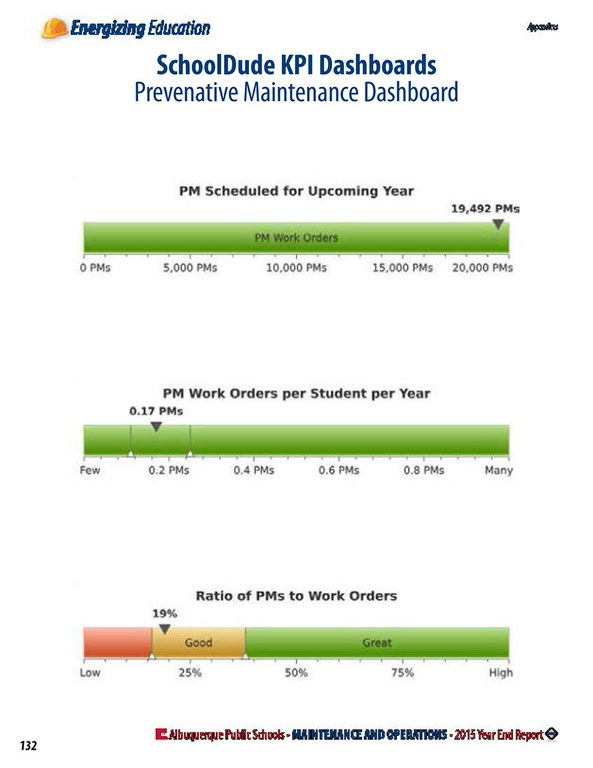 ---