Opening Statement
By John Dufay, Executive Director of Maintenance and Support Operations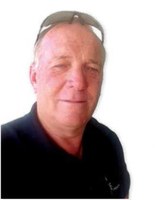 The 2014-15 fiscal year proved to be a particularly groundbreaking time for M&O. In meeting goals and objections, M&O leadership and personnel worked conscientiously to maintain frequent communication with all applicable parties; provide transparency to taxpayers and the community; respond to requests in a timely fashion; and build trust with each other, the schools, and with other APS Divisions. It is my hope that these efforts are demonstrated throughout the summarization of the 2014-15 fiscal year presented here.
Following are my background thoughts about matters of key importance and influential factors that have driven M&O's need to ratchet up its governing and oversight in certain areas.
Schools are STILL fundamental to kids' development
We have only one law in the United States that mandates what a child must do — he or she must go to school! All other laws state what a child is not permitted to do. Traditional public schools are the heart and soul of America and lay the foundation to lifelong learning for the vast majority of its citizens.
But schools, the "heart and soul" of America, have taken a beating of late. The state of our nation's education system makes the news almost daily, and it's usually discouraging. And the rare positive education news venerates "this particular school" with markedly outstanding students or a high graduation rate. Schools are supposed to produce bright students who graduate; it should be the status quo, not news worthy! Stories are not written about pilots who successfully land planes every day or surgeons who operate on the correct appendage; that is what is expected of them in executing their job. So why is it news when a school educates?
It is news because we have this misguided perception that America's schools are failing when actually the traditional education track is changing. And it's changing because students have changed − radically changed since Norman Rockwell so famously illustrated the typical student of his time. There is no longer a "typical" student. Today's students, especially in high school, have many more options such as magnet, charter, and alternative schools. Students move from one to the other, sometimes losing time in between; and the traditional public school doesn't track their journey, rather records their departure as a "dropout." Many of today's students have to first learn English so they can learn the math, science, geography, history, and every other subject taught in English! Education is simply no longer a linear journey free of transitions and setbacks.
Can our education system be improved? Yes, of course it can, and school districts are trying mightily to get acclimated in best serving today's student population. And public schools are still educating students and are still the heart and soul of America. How could they not be? Kids have but three primary environments: home, neighborhood, and school. The child's home environment is often not the nuclear family of yesteryear, but rather a blended family or single parent family. The child's community is no longer the idyllic and safe neighborhood where everyone knows each other and homes are safe havens with a parent always present. School, their third environment, is not exempt from societal changes − it too is transforming. We need new measurements in assessing our changing school systems that don't presume an outdated schedule. We are using old criteria in judging a new education paradigm that is adapting to meet today's multifaceted student population. And we in Maintenance and Operations are doing our part in providing safe, comfortable, and welcoming school environments for the development of students' minds, hearts, and souls, and are proud to be a part of their development and success – regardless of the trajectory of their education journey.
M&O is continually adapting in servicing evolving school facilities
"Maintenance and Operations" divisions for the nation's public school districts have historically been just that − straightforwardly charged with maintaining all that keeps the schools operational. While certainly not easy or necessarily quick, jobs and projects were relatively clear-cut: fix what's broken; replace what's beyond repair; clean what's soiled; and tend to interior and exterior safety issues and aesthetics. However, as schools have evolved from basic classrooms to extensive sites that first added kitchens/cafeterias followed by libraries, gyms, sports fields, performing arts centers, science and computer labs, health clinics, collaboration areas, and more, M&O has been hard pressed to keep pace with the schools' steep ascent in complexity and technology coupled with vast physical expansion.
Today's classrooms are run by technology making them highly hands-on learning environments driven by interactive smart boards and computer accessible curriculum programs. Classrooms also feature interactive monitoring of the environment − heating, cooling, sound, and smart lighting that senses natural light penetrating the room and turning off unneeded electrical lighting. Automatic window shades also control daylighting in allowing more natural light in and reducing utility costs. Classrooms now include collaboration spaces, reading corners, and much more. Every innovation advances the quality of APS education as well as the psychological and physical wellbeing of the learners.
By necessity, M&O technicians have become ever more knowledgeable and skilled in working with the unending introduction of cutting-edge technology, HVAC and electrical systems, as well as complex building materials and installation processes. All the while M&O can't ignore the durable older schools built with fewer intricacies but still standing tall and strong in serving their students. These gems need regular maintenance and modernizing in accommodating all the teaching technology they were not originally designed and built for. Also by necessity, schools' evolution has required that M&O divisions do much more with every passing year than the previously straightforward tasks in keeping schools maintained and operational.
As with the evolution of M&O and the expertise of its technicians, APS is not just about education anymore. All District schools have become non-traditional in the way that they function. They are now open after school and weekends, hosting many dozens of events every day at every school site. Athletics and other outdoor events are using schools' sports fields and grounds, and indoor 'before' and 'after'-school student, family, and community programs utilize classrooms and other site spaces seven days a week. Some APS school campuses have even added health clinics, dental services, and other social service programs for the purpose of preserving students' and their families' health and wellbeing. Schools have become everything that a school never used to be, creating a 180 degree change in the dynamics of school operations from just 10 to 15 years ago and at a much greater cost, challenge, and scope.
APS is not unique. Public school districts nationwide are experiencing exponential growth in the number of events housed at school campuses, translating into increased operating costs in the form of all utilities, custodial overtime, and wear and tear on facilities, grounds, and athletic fields as well as the equipment to maintain them. With facility usage on an indisputably upward climb, the pressing challenge is accommodating people and programs without compromising students' education — the funding's investment and sole objective!
The State of New Mexico's Public Education Department financially supports APS for educational purposes utilizing a 'distribution of funds formula' established by the state legislature based on student population. Taxpayers and state government pay only for schools to operate for education purposes during the school day – NOT for everything else that adults and children use the schools for outside of the school day. It is also important to recognize that while not all residents have interests that support APS, community programs hosted by APS are available to all citizens.
Cost recovery program implemented
Yes, of course we want the community to use the schools, but we also have to be responsible, not neglectful, of that use. Operation at night and weekends is not free. All operational costs (custodial, supplies, heating, cooling, electricity, and water) escalate when schools are used outside of education, but the allocated operation funds remain the same. APS has no alternative but to try to recover some of these costs. The District introduced a cost recovery program several years ago and in the 2014-15 FY, the Senior Facility Usage Specialist was positioned at M&O. A member of WECC, she is an integral participant on the energy team working hard in strategizing conservation and scheduling usage. (See more in the Energy Conservation section on page 25.)
The Facility Usage Specialist considers all requests for space use in centralizing functions into areas that are most economical. For example, a school library will not be utilized for extracurricular activities if that library is on the same cooling system as other adjacent spaces. Use of the standalone ancillary gym at the school, however, may well be granted as it is smaller, on its own cooling and heating system, and has a dedicated exterior entrance limiting access to other areas. The Usage Specialist identifies buildings that will maximize the utilization of appropriate space in curbing cost and risk.
Because inclusion makes for happy neighbors and embraced partnerships, rental fees are currently recovering only 23-30% of costs (but every dollar helps) and have recovered $750,000 in operation and schools' paper goods and custodial costs since the program was started. Rental fees are considerably less than equivalent commercial space, and non-profit entities may qualify for a further discount, depending on purpose.
APS continues to welcome area residents, however, and is working to manage space smarter, responsibly, and strategically to save costs without siphoning money away from the classroom. The cost recovery program is only one example of M&O ceaselessly looking for ways to correctly and productively do better in stretching valuable budget dollars.
A reoccurring theme of this year's Report is offsetting increasing maintenance and energy costs with a wide variety of conservation stratagems and programs. Proactive strategizing has become M&O's standard operating procedure and is realizing more success with every year, as illustrated by the District's decreasing schools' and preventive maintenance costs on page 17. Paying more for supplies, materials, and services (and having more to maintain) all the while reducing maintenance costs are improbably occurring concurrently!
An empowered community helps!
Because the boundary between school and community is becoming blurred, it is important to welcome the community's involvement through the PTA, volunteer opportunities at the schools, and on APS committees. Today it takes a community to run a school system. Certainly it requires their votes in supporting capital improvements in bond elections. And the more they are involved with the schools—have buy-in—the greater likelihood that they will support the District and its goals.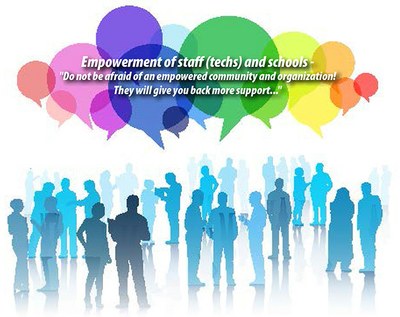 2014-15 was groundbreaking year in advancing data and information management
Productivity records and data of all types are compulsory to managing M&O as decisions should largely be data driven. M&O data includes a suite of information (various assortments of matrix and stories about the schools and condition of the schools) that enables leadership to take a holistic approach in maintaining each site. Data is produced by SchoolDude, FMARS, high tech energy use monitoring systems, and more. Collectively it's an information toolbox offering the proper tool for each job.
However, all this vast collection of data starts out as just numbers that don't necessarily mean anything and certainly is not yet useful tools. We need to make it mean something and we make it mean something by converting the data into information form, such as a pie chart or bar graph that clearly tells the story. And in deciphering the story we can ask where our task is in this information and where we can save the most money. The information directs us to the action plan which produces yet more data entered into the system which reports the results.

This process eliminates speculation and gets to the crux of the problem in aiding us to make sound business practices decisions. We're finally looking at a truthful representation of now, no longer following best past practices or other theories that we thought were good.
In the 2014-15 FY, M&O greatly advanced the process of controlling and interpreting the plethora of data. It is so much data that unless controlled, it can actually be contradictory. Because hard facts and data-based decisions are necessary, we learned to more accurately identify what information is pertinent to solving problems and what information is just noise. We also ascertained that external engagement with each school is not noise and must be considered! M&O serves the school staff and their needs which are not represented in charts and bar graphs. We also upped our game in assessing the results of the actions taken which greatly serves as advocacy in obtaining adequate funding.
Lastly, this refined data analysis process has enabled department Managers to empower Supervisors and technicians, expanding the decision making spectrum. When all personnel can access and see clear baselines that spell out direction, they can then determine when and how they will take necessary direction. In their inclusion and understanding of what needs to be done and why, there is buy-in; they own the information and the resolution. (See Appendices - Database Reports)
M&O employees are important and vital to supporting education
The 2013 M&O Year End Report paid special tribute to M&O's proficient and talented workforce, and last year's Report (2014) reiterated their indispensable value to APS' delivery of education. The learning process would quite simply not transpire without the many technicians that keep the schools comfortable, operational, and safe. And because technicians take care of APS and its students, we have to take care of them.
M&O has teamed up with the APS Wellness Program and Blue Cross Blue Shield of New Mexico in designing and launching a wellness and health conscious culture specifically for M&O's vital and hardworking employees. It is a major initiative of the M&O leadership to nurture safe, healthy, active, and happy employees. It certainly makes for a more productive and responsive team serving the schools! (See more about the M&O Wellness initiative on page 13 of this Report.)