Energy Conservation
There is so much more to M&O than meets the eye. M&O offers not only strategies for maintaining facilities, but also opportunities for reducing energy costs and increasing the energy efficiency of all schools regardless of age. Because part of the successful management of maintaining schools is doing the right thing for the environment as economically as possible, M&O is consistently evaluating current practices and implementing innovative maintenance and energy management strategies while reducing costs. M&O personnel are good stewards of the environment as well as of taxpayer dollars.
The biggest challenges in obtaining school district cost savings are not always technical. Active and continuing support by senior leadership, as well as staff training and motivation, are critical to the success of energy, time, and resources-efficient M&O management efforts. Each year school districts are faced with tough decisions on how and where management can cut costs without adversely affecting the classroom. And unfortunately, the upfront costs to replace high energy systems with energy efficient equipment perpetually clash with school district budgets.
Nationwide school districts spend over $8 billion a year on energy. Although this may seem like a staggering amount, energy costs represent only 4% of U.S. district school budgets and only 3.3% of APS' total school budget in fiscal year 2009-10. By implementing energy efficient maintenance and operations strategies, M&O can generate substantial energy cost savings and still improve the overall physical learning environment in the swelling number of school facilities.
As the result of 11 new schools built in the last four years and new buildings at existing schools erected to replace portables, the District's square footage has increased while heating and cooling costs have steadily risen. The permanent structures that replaced portables are considerably larger than the combined square footage of the discarded portables. And while new construction observes LEED and other sustainable green practices and materials, many new structures have high ceilings which add volume in addition to square footage, further increasing energy use. For example, as the graph on the previous page indicates, it costs approximately $1. 20 a square foot to heat and cool the beautiful new Atrisco Heritage Academy High School with 32-foot wide hall walls and cathedral ceilings, while energy costs at the older schools, such as La Cueva, are significantly less at approximately $.71 a square foot.
Utility Expenditures
The combined utility costs for the 2009-10 fiscal year are 20.1 million (includes water, trash, sewer, gas, electricity), $236.17 per student, 4.2% less than the national average.
Go to the Energy Conservation Efforts for more information >>
Energy Conservation Goals
Incorporate the entire District into an energy conservation program by summer 2011.
Implement a PM program to replace incandescent light bulbs District wide to both save electrical costs and reduce reactive work orders by 2013.
Focus on applying more DDC controls to more schools that operate HVAC systems.
Retrofit the District's antiquated Magnetic T12 and 1st generation T8 Fluorescent Systems with state-of-the-art 3rd generation electronic T8 technology (on-going).

Reduces energy use and costs.
Improves light quality.
Decreases maintenance time.
Note: Ideally M&O would replace bulbs in 6-8 schools a year, investing about $1 million. However, the task will be accomplished as funds are made available. (Cost of a high school retrofit is approximately $375,000 to $500,000, depending on school size, while an elementary school can be retrofitted for $121,500 – a fraction of the cost to switch out all bulbs at larger schools.)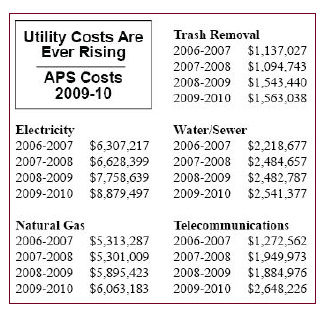 Document Actions